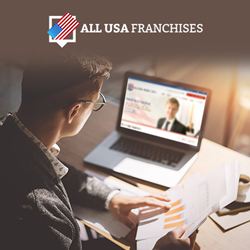 The excitement that we've seen in the market for a free service that, in time, will provide quality leads has only confirmed how great the need is among franchisors for an effective means to market and sell more franchises
MIAMI, Fla. (PRWEB) February 06, 2018
In just two months since its launch, All USA Franchises has registered over 200 franchises in its free online directory of franchises that operate in the United States. The new milestone reflects the overwhelmingly positive response that the franchise portal has received from franchisors across the U.S., who see its directory as a valuable tool for growing their businesses.
All USA Franchises is an online portal that helps franchisors better market themselves online and find prospective franchisees who are hunting for the right business opportunity. Currently, All USA Franchises is in the process of listing all 3,000+ franchises operating in the U.S. in a free, easy-to-use online directory.
Each franchise profile in the directory includes a general overview of the franchise, initial investment requirements, the benefits of investing in the franchise, videos, and more. Additionally, users can filter their search by the franchise's initial cost of investment and their industry, including, but not limited to Automotive Franchises, Entertainment Franchises, Construction Franchises, Beauty Franchises, Food Franchises, Pet Services Franchises, and Retail Franchises.
"The excitement that we've seen in the market for a free service that, in time, will provide quality leads has only confirmed how great the need is among franchisors for an effective means to market and sell more franchises. More and more franchises are being added to our directory every day, and I am confident that any franchise, no matter how big or small, will find great value in our FREE directory, as will entrepreneurs who are looking for their next big venture," said Robert Blankenship, CEO of All USA Franchises.
Blankenship created All USA Franchises after seeing how difficult it is for franchises to do effective digital marketing and attract prospective franchisees. There are countless cases of franchisors who have paid to be listed in directories that do not get results. When franchisors don't get the results they need, they stop paying, prompting the directory to remove their profile or place an ugly "Listing Expired" notice across it.
Furthermore, directories that charge franchises to be listed are not comprehensive, as investors only see the franchises that have paid to be in front of them—potentially excluding the best franchise opportunities out there for them.
All USA Franchises solves these problems. It is a 100% free service that is backed by WebFindYou, the global leader in All-in-One Digital Marketing Technology, which will help franchises get better exposure and generate relevant leads. Additionally, the fact that it is a free service means that, in time, investors will have a comprehensive list of franchise opportunities in the U.S. - not just the franchises that have forked out the money to woo them.
Given the wide range of opportunities out there and the projected growth of the U.S. franchise sector in the coming years, now is a good time for franchisors to consider expanding and for entrepreneurs to get in on the action. In fact, All USA Franchises recently published a blogpost on the top 5 reasons why people should invest in a USA franchise.
Whether you are a franchisor who wants to sell more franchises, or an entrepreneur who has struggled to find the right franchise opportunity, All USA Franchises can help. For more information about All USA Franchises's services or to be listed in its directory, visit http://www.allusafranchises.com or call 786-801-3274.