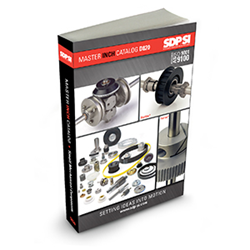 Our mission at SDP/SI is to not only provide high-quality machined and molded components, but to supply the engineer, student and hobbyist with the technical data needed to do their jobs accurately and quickly
HICKSVILLE, N.Y. (PRWEB) February 06, 2018
Stock Drive Products/Sterling Instrument (SDP/SI) announces the publication of their new Master Inch Catalog, D820. The 1280-page catalog contains a wide variety of small mechanical components and is designed to make it easy for the design engineer to find the specific part required. SDP/SI is a leader in providing mechanical based design, engineering, and manufacturing services for critical motion control and small power transmission applications. This catalog features their standard inch size components and is available upon request at: http://www.sdp-si.com/catalogs/catalogrequest.php
The catalog is divided into 15-product sections; the various categories include precision gears, molded gears, timing belt and pulley drives, rigid and flexible couplings, shafting, vibration and shock absorbing products, bearings, and much more. For ease of use each section contains a picture index with description and part number prefix. Sizes offered range from miniature to small and come in various materials and configurations. With the customer's needs and budget in mind, SDP/SI offers both precision and commercial quality parts. Components manufactured with the exclusive SDP/SI Fairloc® hub are found in various product sections or under the Fairloc® heading in the index.
"Our mission at SDP/SI is to not only provide high-quality machined and molded components, but to supply the engineer, student and hobbyist with the technical data needed to do their jobs accurately and quickly," says Doug Kerester, V.P. Sales & Marketing. "So, when putting the new catalog together we included reference material, a section on designing timing belt and pulley drives, designing a miniature drive system along with detailed product specifications and supporting technical information."
The SDP/SI Master Inch Catalog can be requested online or when placing an order with Customer Service.
About Stock Drive Products/Sterling Instrument (SDP/SI) a Designatronics company
SDP/SI, ISO 9001:2015 + AS9100D certified, provides mechanical based design, engineering and manufacturing services for critical motion control and small power transmission applications, including aerospace, defense, robotics, industrial automation, and medical. Over 100,000 standard inch and metric small mechanical components are available for fast turnaround. SDP/SI specializes in high-quality machined parts, molded components, synchronous belt drives, precision gears and subassemblies. For more information go to: http://www.sdp-si.com