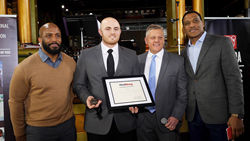 I have proven over and over again, since elementary school, that a hearing disability will not slow me down
MINNEAPOLIS (PRWEB) February 05, 2018
On February 3, 2018, HearStrong joined the NFLPA's Professional Athletes Foundation at Smocks and Jocks, an exclusive player event preceding Sunday's big game. There, Alex Weis, a deaflympian, and Mercedes Nelson, a student with great ambitions, were recognized for their great successes and advocacy for others with hearing loss.
Founded in 2013, HearStrong is a non-profit organization with a mission to radically challenge the general perception of hearing and inspire a mass hearing healthcare awareness movement. For Alex Weis and Mercedes Nelson, hearing loss awareness has helped shape who they are today. Alex's mom fought for him to get hearing aids at the age of two, and since then he has never stopped achieving anything he sets his mind to. He is a now a teacher and has participated in the Deaflympics as a coach and a member of Team USA Track and Field.
"I have proven over and over again, since elementary school, that a hearing disability will not slow me down," Alex says. "I believe when people see that, it inspires them to have faith that they can achieve their goals as well."
Mercedes was fit with her first pair of hearing aids at one month old. Today, she is a high school student who volunteers in her community and has a dream of working in the medical field so she can help others like her. Since she was young, Mercedes has learned how important it is to advocate for herself and others with hearing loss. She is open about wearing hearing aids and hopes that her story will inspire other kids to feel confident in getting the help they need
"I want other kids to know that whatever happens in life, you can overcome it," says Mercedes. "Be happy with yourself and your life!"
HearStrong is honored to have advocates like Alex and Mercedes to propel the hearing loss awareness movement. It is the organization's belief that by celebrating the 20% of Americans who have treated their hearing loss, the other 80% will be empowered and inspired to seek treatment. Former NFL players have played an important role in HearStrong's mission and many have been named as HearStrong ambassadors. During Saturday's ceremony, Priest Holmes, former running back who played 11 seasons in the NFL, was named as a celebrity ambassador and helped celebrate Alex and Mercedes.
Each year, the organization proudly participates in the Smocks and Jocks charitable art auction, featuring artwork of current and former professional football players. Proceeds from the event go to the Gene Upshaw Players Assistance Trust, an organization that helps former players in need of financial assistance or those who wish to continue their education. With these outstanding events, and the advocacy of former professional players, HearStrong is better equipped to spread awareness about hearing health and hearing aids.
Do you know a remarkable individual who has conquered their hearing loss? To nominate a HearStrong Champion or learn more about how you can get involved with the organization, call 866-432-7500.
About HearStrong:
HearStrong is a 501(c)(3) not-for-profit organization that seeks to shatter the stereotypes surrounding hearing loss and its advanced solutions by honoring the accomplishments of those who have overcome hearing loss and inspire others to do the same. Supported by the dedication of EarQ providers, the organization is a worldwide advocate for hearing loss awareness, education and empowerment.