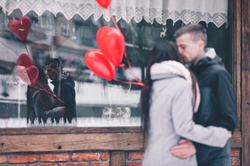 (PRWEB UK) 6 February 2018
A survey of people in the UK has found that men are the big spenders when it comes to treating their other halves on Valentine's Day.
The survey by consumer finance website Bobatoo.co.uk asked respondents a series of questions about their spending plans for Valentine's Day this year, to see how it differs between men and women as well as by age and region.
Some of the key findings of the survey found that:

Men spend more than women
Young people spend the most
People in Northern Ireland are by far the most generous
East Midlands people most likely to spend less
A card and box of chocolates the most popular gift
35% of people do not celebrate Valentine's Day
The survey found that over half (51.9%) of women in the UK only spend less than £10 on their loved one, compared to 33.1% of men.
Men are much more likely to spend big as well, with 13.4% spending more than £50 compared to just 8.7% of women.
It also seems the older we get, the less inclined we are to spend big on the 14th February. A massive 63.6% of people aged over 50 only spend a tenner or less, compared to a just a quarter of those aged 16-24.
When it comes to which region is the most generous, Northern Ireland is streets ahead of the rest. 24% of people in Northern Ireland spend more than £50 on their loved ones on Valentine's Day, compared with 11.9% of people in the North East – the next most generous region.
People in the East Midlands are the least generous, with 58% spending less than £10 and just 4.3% spending more than £50.
With regards to the most popular Valentine's gift, it's no surprise that the humble card comes out on top. After that, the next popular is a box of chocolates followed by a romantic meal out.
See the full results of the survey here: https://www.bobatoo.co.uk/blog/valentines-day-spending-survey-results-men-spend-women/