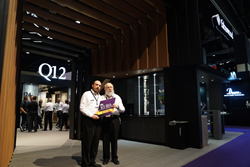 (PRWEB) February 07, 2018
The annual Kitchen & Bath Industry show, also known simply as KBIS, is the world's largest tradeshow for the kitchen and bath industry. This year's show was held on January 9-11 at the Orlando Orange County Convention Center and drew in a record-breaking crowd of over 80,000 attendees with more than 600 exhibitors, including 100 first-time exhibitors.
Among those exhibiting was Fabuwood Cabinetry, a major leader in the industry who is no stranger to KBIS. Metro Exhibits, which provides everything from booth installation, break-down, shipping, storage, graphic design, printing, online portals for managing inventory, is extremely proud to have been selected to build the exhibit for such a renowned brand in the industry. For this year's show, Fabuwood required an entirely new exhibit to accommodate a larger booth space that would wow attendees with the big reveal of their rebranded look. Metro is one of the best trade show display companies in the US. Their design team has made thousands of booths and has access to the most up to date materials, making them an ideal choice for brands that want to make a splash. The collaboration between Fabuwood and Metro could not have been more successful, as Fabuwood's tradeshow booth for KBIS 2018 won the award for "Best of Show – Best Overall Booth".
Both Metro and Fabuwood worked tirelessly on the "Best of Show" exhibit that consisted of an impressive 4,000 square feet and featured 30 interactive kitchen displays designed with the help of Ico Designs. Along with its eye-catching design and welcoming layout, the booth involved multiple points of interest throughout the space. Highlights included a life-sized cabinet which was the ultimate spot for a KBIS Selfie.
Chaim Tambor, the custom shop manager at Fabuwood stated "The initial sketch of our booth was quite daunting, as it seemed completely inexecutable. It's one thing to design something beautiful on paper, however actually executing it and bringing it to life is quite another. Metro Exhibits together with the Fabuwood team made all the necessary changes ensuring every detail of the design actually lined up. We could not have brought this vision to life without everyone on Metro's team!"
Metro Exhibits worked magic and delivered a unique and marvelous design that stood tall and felt open and welcoming to KBIS visitors. The company is extremely thrilled to add this build to their impressive repertoire of large tradeshow exhibits. "The Fabuwood team was a delight to work with from the very beginning. They were on top of every aspect of the build and as a result the perfect atmosphere was cultivated to enthuse show-goers." Said Phil Zamloot, President of Metro Exhibits.
Since beginning in 2008, Metro Exhibits is a full-service tradeshow and event implementation partner providing turnkey services and support for its clients throughout the country. With its complete design staff, skilled craftsmen and construction facilities, Metro can custom build a wide range of branded environments to suit any need.
For more information on Metro Exhibits, please visit https://metroexhibits.com/