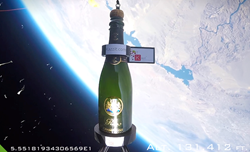 As a way to let every wine enthusiast and wine professional become aware of the site's usefulness, we decided to test the boundaries of Earth by sending a bottle of Champagne to Earth's outer limits
PHOENIX (PRWEB) February 06, 2018
On January 24th, 2018 Kazzit, the most comprehensive Winery Guide in the Entire Universe has once again taken the wine world to new heights by sending the world's first bottle of Champagne into space! When asked why, Babak Motamedi, Kazzit CEO said, "As a way to let every wine enthusiast and wine professional become aware of the site's usefulness, we decided to test the boundaries of Earth by sending a bottle of Champagne to Earth's outer limits." From complete winery profiles and deals, to booking wine tastings and wine event syndication, Kazzit is the clear choice for wine lovers around the world.
From a remote location outside of Las Vegas, the Kazzit crew braved brisk temperatures and breezy conditions to facilitate the launch. Dr. Chris Rose, Director of Sent Into Space, coordinated with the Kazzit team to make the payload, wind conditions, recovery location and various other calculations the most ideal for a successful mission.
Utilizing telemetry and GPS location equipment, the team tracked the launch vehicle to an altitude of
37 kilometers, roughly 122,000 feet, reaching near space. After extremely low pressure caused the balloon to burst, the payload started to plummet back to earth at approximately 230mph, causing the cork to eject from the bottle. The champagne spewed out in a semi-frozen state as the temperatures at altitude were around -70º below zero. The parachute then deployed, making for a gentle descent to earth.
The recovery team drove 80 miles tracking on the highway, they then had to turn off into unforgiving and rugged desert terrain to continue the recovery. Add another 30 miles through the desert, and it was necessary to go on foot the rest of the way. As one might expect, the team was nearly exhausted but ready to carry on. 4 miles later, through scrub, rocks and Joshua trees, the payload was successfully recovered and the entire journey was captured with live video and can be viewed by visiting spacebubbly.com
Not only was the bottle intact, there was a small amount of Champagne left in the bottom, which the team used to toast a successful mission and setting new world records by sending the first champagne into space and uncorking a bottle at the highest altitude.
Kazzit is committed to the wine enthusiast and the wine professional, going all the way to space to let everyone know that Kazzit is the Most Comprehensive Winery Resource in the Entire Universe.