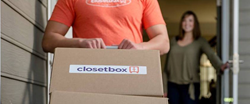 DENVER (PRWEB) February 06, 2018
Sean Sutherland joins Closetbox as Director of Engineering after serving in engineering leadership roles at ReadyTalk, Pearson and the Harris Corporation. Sutherland has managed teams both domestically, as well as in Europe, Russia, and Asia. Recently he has focused on developing local teams and fostering progressive engineering cultures to drive teams to higher levels of autonomy.
Sutherland's hire comes as Closetbox strengthens its focus on technology and efficiency in serving customers across the nation. For the cost of a traditional self-storage unit, Closetbox provides full-service storage that includes professional storage movers picking up belongings from clients' homes and on-demand return delivery.
Closetbox creates additional convenience for its clients through its web and mobile offerings. Clients have the ability to manage their stored belongings, pickups and deliveries.
Closetbox is the only full-service storage company that uses an asset-light, shared economy model by using excess capacity in the existing logistics network to pick up and deliver storage. Because of this model, Closetbox is the only company to truly disrupt self-storage by profitably offering full-service storage at the cost of self-storage.
Sutherland's hiring is another Closetbox commitment to onboarding seasoned startup professionals. In August, former ReadyTalk Chief Operating Officer Barb Stevens was named Closetbox's Chief Operating Officer following Readytalk's successful exit. Former Clarity Digital Group VP of Product, ShopAtHome Digital Marketing Director and YourHub.com founding editor Travis Henry joined Closetbox in October to lead marketing.
About Closetbox
Closetbox is a full-service storage company that offers no-hassle pickup and on-demand return delivery of customers' belongings with secure storage in local storage facilities. Founded in 2014 by Marcus J. Mollmann and headquartered in Denver, CO, the company is backed by venture capital and offers an efficient and cost-effective solution to storage. Each customer has access to a personalized, online dashboard that includes an inventory of their belongings—allowing customers to request any or all items to be returned within a few days.
Closetbox serves 88 markets across 38 states and Washington D.C. and will continue its market expansion through 2018. To learn more, visit http://www.closetbox.com.