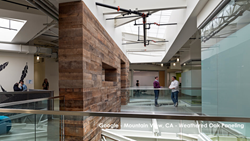 TerraMai's goal is to raise awareness for design concepts that are better for the planet.
WHITE CITY, Ore. (PRWEB) February 06, 2018
TerraMai, the industry leader in providing reclaimed wood to premier businesses, has launched an online educational platform to share authoritative insights into the latest news in commercial architecture and design.
The platform will publish comprehensive, image-rich, informational articles on relevant topics, including sustainable design, biophilia, green building materials, and more. The company's seasoned staff will take peer-reviewed studies and scientific theories and share them with a broader audience in a design-oriented context.
Covering the intersection of green living and design, the platform serves as a hub of knowledge that will cater to business professionals and industry experts. TerraMai, who has worked with Google, Stanford University, and IBM, has assembled an A-list team to create definitive content that distills that experience into helpful and thorough articles.
TerraMai aims to be the ultimate online resource for all things architecture and design by addressing a wide range of ideas and perspectives in a holistic manner. The platform's abundance of detail and depth of research has set a new standard. TerraMai's hope is that the information they publish will bring significant industry information and research to architects, designers, and others who are interested in wellness and design.
You can view the resource on TerraMai's website.
TerraMai's goal is to raise awareness for design concepts that are better for the planet. As a key player in the reclaimed wood industry, TerraMai works relentlessly to support sustainable design. This new and exciting platform is their next step in executing that vision. By evangelizing important concepts and perspectives in architecture and design, TerraMai hopes to make the world a better place.
About TerraMai:
TerraMai provides a broad palette of beautiful and unique domestic and exotic reclaimed woods for premier commercial and residential projects. Our client list includes Google, Amazon, AT&T, REI, Whole Foods, Lululemon, HBO, UC Berkeley, NYU, Stanford and hundreds more. We sell our materials across the United States directly to the marketplace as specified by Architectural & Design firms (such as Gensler, Callison RTKL, Perkins+Will, HOK, AI and many others) and National Accounts shipped directly to contractors. Applications include flooring, paneling, siding, decking, stair treads, and table tops. TerraMai's international and domestic sourcing network developed over the past 25 years, along with our expertise and custom capabilities, are unmatched in the reclaimed wood industry.