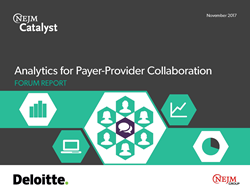 "This meeting of minds shows that health care payers and providers are not as far apart as is commonly believed."
CHICAGO (PRWEB) February 06, 2018
Health systems and health plans view data analytics as the key to transforming health care. In the NEJM Catalyst Forum Report, "Analytics for Payer-Provider Collaboration," sponsored by the Deloitte Center for Health Solutions, experts say success is dependent on how well organizations collaborate and share data with one another.
NEJM Catalyst brought together 16 health care provider and payer leaders and analytics experts from across the country to speak candidly about the potential for analytics in their organizations and across health care. The results of the forum, along with independent research from both NEJM Catalyst's Insights Council and Deloitte, are captured in the newly published NEJM Catalyst Forum Report, "Analytics for Payer-Provider Collaboration."
"This meeting of minds shows that health care payers and providers are not as far apart as is commonly believed," says Edward Prewitt, NEJM Catalyst Editorial Director, who co-moderated the forum with NEJM Catalyst Clinical Editor Namita Seth Mohta, MD. "The panelists left the roundtable with learnings for care delivery, the financial model, and organizational infrastructure, including the realization that there is no such thing as perfect data and that value-based care will serve as the basis for analytics innovation."
Fully 84% of NEJM Catalyst Insights Council members say analytics are extremely important or very important to their organization's long-term competitive strategy. Deloitte survey respondents say they are investing in a range of analytics capabilities in the next few years – led by clinical analytics for payers, and by population health and clinical management for providers.
In addition to unique perspectives from each participant, the NEJM Catalyst Forum Report offers six actions that leaders from payers and providers can take to achieve and improve collaboration, such as developing common definitions of data sets and goals and sharing data rather with one another rather than simply demanding it. "Where the parties can trustworthily share data, everyone benefits – especially patients," Prewitt says. Payer and provider representatives suggest looking for ways to expand data sources beyond EMR and claims systems.
Download the full report, complete with highlights from the NEJM Catalyst Insights Council survey and the Deloitte surveys, at http://join.catalyst.nejm.org/sponsor/catalyst-deloitte-forum2017.
About NEJM Catalyst
NEJM Catalyst offers a combination of multimedia content, web events, expert panels, and new research. NEJM Catalyst connects health care executives, clinical leaders, and clinicians with practical approaches and actionable steps to implement changes in their organizations that improve the value of health care delivery and patient care. For more information visit Catalyst.NEJM.org.
About NEJM Group
NEJM Group creates high-quality medical resources for research, learning, practice, and professional development. Designed to meet the demand for essential medical knowledge and innovation among academic researchers and teachers, physicians, clinicians, executives, and others in health care, NEJM Group products include the New England Journal of Medicine, NEJM Journal Watch, NEJM Knowledge+, and NEJM Catalyst. NEJM Group is a division of the Massachusetts Medical Society. For more information visit nejmgroup.org.
About Deloitte Health Care
Innovation starts with insight and seeing challenges in a new way. Amid unprecedented uncertainty and change across the health care industry, stakeholders are looking for new ways to transform the journey of care. Our U.S. Health Care practice helps clients transform uncertainty into possibility and rapid change into lasting progress. Comprehensive audit, advisory, consulting, and tax capabilities deliver value at every step, from insight to strategy to action. Our people know how to anticipate, collaborate, innovate, and create opportunity from even the unforeseen obstacle.
Please see http://www.deloitte.com/us/about for a detailed description of our legal structure.