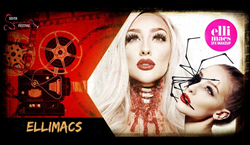 SANTA ROSA, Calif. (PRWEB) February 07, 2018
For fans of makeup tutorials, Ellimacs SFX is the equivalent of royalty. By creating complex character makeups with basic materials and household items, Ellimacs — the combination of self-taught makeup artist Ellinor "Elli" Rosander and photographer Macs Moser — have helped millions of YouTube users all over the world take their Halloween costumes and cosplays to the next level. Now, these fans will have the opportunity to watch Elli do her work up close and in person at the Third Annual Silver Scream Film and Comic Festival in Santa Rosa.
Silver Scream, Sonoma County's premiere horror and genre event, takes place at the downtown Santa Rosa Roxy 14 and is dedicated to not only showcasing features and short films, but also to exhibiting what goes on behind the scenes — thus carrying on the tradition set by its affiliate company, Famous Monsters of Filmland.
"On-screen monsters are only as effective as the people behind them," says FM Executive Editor Holly Interlandi, "and that includes not only the suit actors, but those who specialize in painting latex and creating realistic wounds." Famous Monsters magazine was first established in 1958 and ultimately became the go-to resource for monster-obsessed children everywhere, encouraging the careers of Hollywood luminaries and DIY makeup experts alike.
In between scheduled independent films and special screenings of classics such as NIGHT OF THE LIVING DEAD, Silver Scream will feature Elli, as well as former FACE OFF contestant Walter Welsh, doing quick and easy makeup demonstrations for the future Oscar-winning makeup artists of the world. No word yet on what particular monsters Elli has in store for her demos, but given her track record — which includes zombies, aliens, creepy clowns, and characters from STRANGER THINGS, DEATH NOTE, DOCTOR WHO, and GAME OF THRONES — they're bound to be eye-popping.
Silver Scream Festival runs February 16-18, 2018 at the Santa Rosa Roxy 14.
Full schedule and tickets for all three Silver Scream festival days are available at https://silverscreamfest.com/.