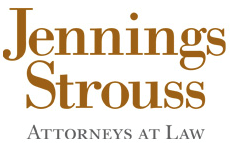 SCOTTSDALE, Ariz. (PRWEB) February 05, 2018
Jennings, Strouss & Salmon, P.L.C., a leading Phoenix-based law firm, is pleased to announce that Shanna N. Bowman and Christopher J. Rogers have been elected Members (Partners) of the firm, effective January 1, 2018.
"Shanna and Chris have effectively demonstrated the legal skills, professionalism and standing in the community that exemplifies Members of the firm," stated John C. Norling, Managing Attorney of Jennings, Strouss & Salmon. "We are proud to elect Shanna and Chris as Members and congratulate them both on this achievement."
Bowman focuses her practice on family and domestic relations law, as well as general litigation. She provides representation in every aspect of family law, including divorce, pre- and post-nuptial agreements, cohabitation agreements, domestic partnerships and the related contract law, custody disputes, and adoptions. Bowman is particularly experienced with complex marriage dissolutions involving "business divorces," where the spouses must divide substantial assets and holdings. Her litigation experience encompasses a variety of complex legal issues, including commercial, banking, real estate, agricultural, environmental, municipal, and other business disputes, as well as tort defense. Bowman is exceptionally adept with finance intensive matters requiring analysis and understanding of corporate balance sheets or investments. She earned a J.D. from Columbia University School of Law, an M.B.A. with an Accounting concentration from Columbia Business School, and a B.S., cum laude, in Industrial Engineering from Arizona State University.
Rogers focuses his practice on corporate, securities, and business transactions. All types of early-stage, growing, and established companies, and the investors who fuel them, trust Rogers as their primary legal advisor. He sharpens his technical skills structuring securities offerings, executing merger and acquisition transactions, and advising entrepreneurs along the path from start-up to exit. Rogers also helps investment advisors and funds navigate the world of U.S. Securities Exchange Commission (SEC) compliance. He regularly prepares operating agreements, shareholder agreements, offering disclosures, and a variety of contracts. Rogers serves on the Board of Directors of the Association for Corporate Growth (Arizona Chapter), a leading mid-market private equity industry organization, and works on the Executive Councils of the Securities and Business sections of the State Bar. Dedicated to bolstering the start-up ecosystem as a whole, Rogers regularly mentors participants in Invest Southwest's Venture Madness competition and supports other community initiatives. He earned his J.D. from American University Washington College of Law and his B.A. from Muhlenberg College.
About Jennings, Strouss & Salmon, P.L.C.
Jennings, Strouss & Salmon, P.L.C. has been providing legal counsel for over 75 years through its offices in Peoria, Phoenix, and Tucson, Arizona; and Washington, D.C. The firm's primary areas of practice include advertising and media law; agribusiness; automobile dealership law, bankruptcy, reorganization and creditors' rights; construction; corporate and securities; eminent domain and condemnation; employee benefits and pensions; energy; family law and domestic relations; health care; intellectual property; labor and employment; legal ethics; litigation; professional liability defense; real estate; surety and fidelity; tax; and trust and estates. For additional information, please visit http://www.jsslaw.com and follow us on LinkedIn, Facebook, and Twitter.
~JSS~
Contact: Dawn O. Anderson | danderson(at)jsslaw(dot)com | 602.495.2806