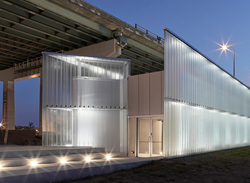 "We believed a better solution existed – one that combined our economic and ecological interests – and we are proud to be recognized for our commitment to sustainability."
NEW YORK (PRWEB) February 06, 2018
In celebration of Earth Day on April 22, Bendheim is pleased to announce that its Lamberts® channel glass has received an Environmental Product Declaration (EPD), confirming the eco advantages of this exceptional building material. The glass is a powerful design element, known for producing a clean, luminous aesthetic, combined with energy performance and sound control benefits.
The EPD allows architects to easily incorporate Bendheim's channel glass into their next sustainable, LEED-certified project. The internationally standardized evaluation provides full disclosure of the glass' environmental footprint. It confirms Lamberts' achievement of CO2 emissions below the industry standard.
As a result of this data transparency, architects are now able to create double-glazed channel glass facades by Bendheim with a demonstrably lower carbon footprint than most traditional curtain walls. The exceptional CO2 performance of channel glass is due to the manufacturer's decades-long commitment to eco innovation, including:

The use of oxygen and natural gas to fire the glass-melting furnace
The implementation of 100% renewable electricity throughout the factory
Known for creating gleaming, never-ending translucent façades and interior partitions up to 23 feet tall, Lamberts® EcoGlass™ channel glass contains up to 40% post-consumer recycled material. Bendheim, the exclusive supplier of this glass in North America, introduced the product to the US market in the early 2000s.
Since the 1970s, Lamberts has practiced its own strict environmental policies, even before industry-wide ecological regulations were established in Germany. More than 20 years ago, the company installed an oxygen-assisted furnace, becoming one of the first glass factories to reduce its CO2 emissions.
"We took a risk implementing eco advancements at a time when large multi-national glass companies refused to spearhead this type of innovation," said Christoph Lamberts, fourth-generation Lamberts owner. "We believed a better solution existed – one that combined our economic and ecological interests – and we are proud to be recognized for our commitment to sustainability."
In addition to its favorable EPD declaration, Lamberts® LINIT EcoGlass™ channel glass has obtained the following certifications: ISO 9001: 2015 for quality management, ISO 14001 for environmental management, and ISO 50001 for energy management. For more information on this specialty glass, visit http://www.bendheim.com/glass_type/channel-glass.