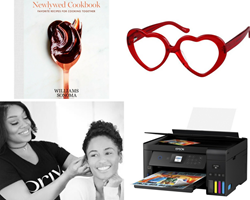 Flowers, candy and fragrances need not be your only Valentine's Day gift options.
New York, NY (PRWEB) February 07, 2018
Flowers, candy and fragrances need not be your only Valentine's Day gift options this year.
Lifestyle expert Jeni Bond, from FunTrendsUSA.com, has some alluring suggestions for your beloved:
"Recently wedded couples will love The Newlywed Cookbook from Williams-Sonoma. It's designed for novice and expert cooks alike, featuring inspiring recipes infused with global flavors and seasonal ingredients. It's available at Williams-Sonoma.com. Essential Glow by Stephanie Gerber, is packed with easy-to-follow recipes and tips for using essential oils. It's available on Amazon, as are The Breakfast Bible: 100+ Favorite Recipes to Start the Day by Kate McMillan and Modern Farmhouse Style, which is filled with farmhouse-inspired decor ideas."
"Accessorize your look with help from Zenni.com. They have a gorgeous assortment of prescription eyewear and sunglasses that start at just $6.95! At that price, you can afford more than just one pair. At Zenni, you'll find thousands of stylish, well-crafted glasses for every look, occasion or need. Go to zenni.com/valentines to see all these styles and more!"
"The PRIV beauty and wellness app is all you need to look great! As seen on The Real Housewives of Atlanta, Keeping Up With the Kardashians and Vanderpump Rules, PRIV's professionals can assist you to achieve the look of your favorite celebrities. From getting your make-up, hair and nails done at home or the office, PRIV's top-rated, highly vetted pros will come to you at affordable prices. To schedule an appointment in your area, download the PRIV app or visit gopriv.com."
With Epson EcoTank printers, you can print romantic photos of your Valentine wirelessly from your smartphone. With vibrant colors and crisp text, the EcoTank also can print gorgeous invitations and decorations. Epson EcoTank printers do not use cartridges. Their supersize ink tanks can last for 2 years, which means you can print up to 5,200 pages before you need to buy your first ink bottle. Visit Epson.com for more details.
For more information, contact: Jeni Bond on Twitter @JeniBondSays or Barry D. Miller, Fun Trends USA, at 551-697-3007 or barry@miller-weiner.com.