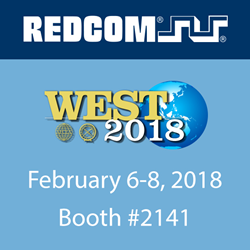 At REDCOM we put a lot of thought into building the technology that allows government and defense organizations to maximize their effectiveness in the IP environment, while simultaneously providing the mechanisms to communicate when that environment has been rendered inoperable.
(PRWEB) February 06, 2018
REDCOM Laboratories, Inc., the leading supplier of tactical edge communications systems, is pleased to announce it will be exhibiting at AFCEA WEST 2018 in San Diego, February 6-8. The company will be in booth #2141.
At AFCEA WEST, REDCOM will be conducting live interoperability demos that show how the company's technology can reliably connect virtually any voice communications system in the world, from strategic command and control out to the tactical edge. One REDCOM system can provide connectivity between AS-SIP phones, landlines, smartphones, satellite phones, radios, and even magneto crank-phones.
REDCOM will also be exhibiting the latest versions of its military-grade software, Sigma Core and Sigma Client. Sigma Core is the company's powerful and flexible software-based call control platform that delivers a comprehensive set of UC functions, including VoIP, point-to-point video, XMPP with presence, conferencing, and unified messaging. Sigma Client is a secure VoIP app for Windows® and Android™ with full preemption controls and Push-to-Talk for instantaneous voice communication via IP.
Defense against the denied environment
At AFCEA WEST, REDCOM will showcase CrucialConnect™, the company's solution for sustaining communications in an IP-denied environment. CrucialConnect is a family of customizable and deployable packages designed to restore critical communications in minutes, with options for HF, VHF, LTE, and SATCOM redundancy.
"At REDCOM we put a lot of thought into building the technology that allows government and defense organizations to maximize their effectiveness in the IP environment, while simultaneously providing the mechanisms to communicate when that environment has been rendered inoperable," said REDCOM President & CEO Dinah Gueldenpfennig Weisberg. "CrucialConnect continues REDCOM's tradition of delivering the most secure, reliable, and interoperable communications solutions."
Developed in partnership with NViS Communications, CrucialConnect HF is a fully integrated kit that does not require any manual intervention to complete voice or data connections. "The system enables reestablishment of voice, data and email transmittal back to the PSTN from an area with zero communications infrastructure. We see many government and emergency management agencies excited about this unique solution we've built in partnership with REDCOM to overcome the denied environment," said John Rosica, NViS Communications President.
Visitors are encouraged to visit the REDCOM booth #2141 at AFCEA WEST to see CrucialConnect in action.
Low SWaP call control for the tactical edge
REDCOM is proud to announce that Sigma® Core 2.0.1 can now be integrated on PacStar 451 and 455-series of rugged communications modules, delivering dramatically improved capabilities for tactical, expeditionary and mobile organizations. Integrated with PacStar 400-Series, REDCOM Sigma Core can function as a stand-alone Local Session Controller (LSC) or as an adjunct to an existing Enterprise Session Controller (ESC) to deliver advanced voice services such as transcoding and conferencing for red and black networks.
"Together, REDCOM and PacStar have reimagined what it means to be low SWaP at the tactical edge," said Chris Fish, Director of Government Programs at REDCOM. "The PacStar 400-Series is the ideal platform for our Sigma Core software, enabling us to deliver powerful and secure call control capabilities to organizations requiring a proven, small form factor comms package."
"PacStar 400-Series customers can benefit tremendously with the integration of REDCOM's Sigma Core software into our platform" said Peggy Miller, chief executive officer for PacStar. "With the addition of the comprehensive suite of secure, interoperable, unified communications capabilities in Sigma Core, our customers have a one-stop shop to meet their military-ready networking and communications needs."
About REDCOM
REDCOM specializes in the design and manufacture of advanced tactical and strategic communications solutions with a focus on interoperability, reliability, and security. REDCOM's MIL-spec products are optimized for low size, weight, and power (SWaP), making them the ideal communications core for denied environments or deployments to the tactical edge. The company's latest innovation, Sigma Core, is a military-grade software platform that delivers robust call control, media handling, and encrypted communications. REDCOM's customers include all branches of the military, government agencies, emergency responders, integrators, and enterprises. For additional information, please visit the REDCOM website at http://www.redcom.com.
About PacStar
Pacific Star Communications, Inc. (PacStar) is a leading technology-based systems integrator that delivers advanced, reliable and interoperable tactical and enterprise communications systems to the military, federal, state and local government agencies, as well as emergency responders. PacStar's unified and tactical network communications systems are ideally also suited for commercial sector organizations with mission-critical, complex communications requirements. Visit the PacStar website at http://www.pacstar.com for more information.
About NViS Communications
NViS Communications, LLC is a highly specialized telecommunications systems integrator with expertise in design development and implementation of mission critical infrastructure-less fallback communications systems. If your mission is to communicate around the corner or around the world using voice, data, or a combination of both, NViS has the solution. Visit the NViS Communications website at http://www.nviscom.com for more information.