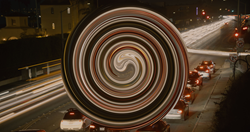 In creating 'The Gateway,' we scoured the world to develop the ultimate experience in sensory deliciousness… a truly arresting visual, audial and mental feast.
BEVERLY HILLS, Calif. (PRWEB) February 06, 2018
Ready to marinate your mind? Joining the February 22 launch lineup of 420TV – the premium cannabis news, entertainment and lifestyle OTT channel – is "The Gateway," a special treat for viewers seeking the ultimate sensory experience for the eyes, ears and psyche. Watch a sneak peek.
Developed by a team of cinematographers and motion graphic designers, "The Gateway" is a special collection of video content featuring visually arresting imagery set to beautiful music landscapes. With 3-5 hours of new programming monthly, 420TV's "The Gateway" is an ever-changing and evolving portal that will both soothe and surprise the user. It will feature everything from time lapse video, slow TV and motion graphics to theatrical movie mashups, avant-garde animation, classic industrial films and unique offerings from around the world. The point is to provide an ambient visual and audio backdrop that enhances any party, chill-out or other activity of choice.
The inaugural lineup of "The Gateway" will include:

HYPNOSIS – Mesmerizing scenery made through hypnotic, visual effects.
BLOOM – Unedited footage of nature, people, and all-things living.
TRIP INTO THE ZOID – Surreal laser, liquid, and pattern art.
IT CAME FROM DARK DOMAIN – Mind-bending video mashups made from classic films and videos set to equally next-level, original music.
TREASURE CHEST – A collection of addicting visual surprises sure to hook with just one look.
"In creating 'The Gateway,' we scoured the world to develop the ultimate experience in sensory deliciousness… a truly arresting visual, audial and mental feast," said Alex Nahai, a founding 420TV partner. "We hope our viewers have as much fun enjoying these videos as they were for us to create. We also look forward to working with new graphic artists and cinematographers as we expand this content."
"The Gateway" joins a 420TV launch lineup that includes – among others – such original programs as "In Amsterdam," in which model, VJ host and TV actress Veronica van Hoogdalem takes viewers to Amsterdam, ground zero of the green movement, for an insider's view of the exciting cannabis culture there; "Medical Marijuana Miracles," a provocative mini-documentary series exploring the real-life stories of people (and even pets) whose lives have improved tremendously thanks to the medicinal properties of cannabis; and "Super Slackers," an animated comedy from longtime director/animator of "The Simpsons" David Silverman.
Initially, the new channel will be available on 420TV.com and its mobile applications, before quickly expanding to other devices and throughout OWNZONES' worldwide multi-platform distribution network. OWNZONES is a VOD platform with streaming video powered by OWNZONES Media Network, which produces and distributes content through its worldwide networks. Its destination points include Comcast, Amazon, Roku and Apple TV, among others.
About 420TV
Debuting February 22, 2018, and initially available through 420TV.com and its mobile applications, 420TV is a premium 4K video-on-demand network devoted to all things cannabis. It will deliver original programming produced exclusively for the multi-platform channel, in addition to acquired long- and short-form entertainment. Content categories in development include news, information, food, fashion, comedy, music and animation, as well as acquired feature films, documentaries, music and live streaming events. 420TV was developed by 420 Entertainment Group, comprised of OWNZONES Media Network, Genesis Media and Alex Nahai Enterprises. For more information, please follow http://www.420TV.com.