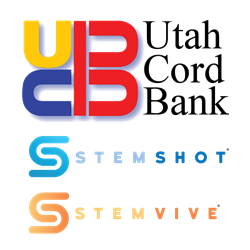 "This will allow UCB to come into alignment with FDA guidelines in order to work toward application of an IND (Investigational New Drug) under the new RMAT (Regenerative Medicine Advanced Therapy) designation as expressed in the 21st Century Cures Act."
SANDY, Utah (PRWEB) February 06, 2018
Utah Cord Bank (UCB) is pleased to announce that it has engaged in a consulting agreement with A3Cell and Dr. Barbara Krutchkoff* to help strategize its regulatory roadmap over the coming years. UCB will continue to lead the industry through its ongoing commitment to work within FDA regulations to establish compliant options for physicians as well as to undergo approved clinical studies to validate the safety and efficacy of UCB's premium StemShot® and StemVive® regenerative medicine products.
Beginning in the new year, Utah Cord Bank plans to begin collecting data from a multi-site network of clinics, using IRB (Institutional Review Board) supervised protocols to aggregate and document real-world evidence of actual clinical outcomes. Eliott Spencer, CEO and founder of UCB stated, "This will allow UCB to come into alignment with FDA guidelines in order to work toward application of an IND (Investigational New Drug) under the new RMAT (Regenerative Medicine Advanced Therapy) designation as expressed in the 21st Century Cures Act." UCB's final objective is the RMAT designation with the FDA. Leveraging the many decades of combined experience of UCB's qualified team will bring regenerative medicine toward greater excellence.
*Dr. Barbara Krutchkoff is a consultant for physicians and biomedical startup companies in regenerative and cellular medicine. Dr. Krutchkoff's A3Cell consultancy helps practitioners and biotech entrepreneurs navigate the regulatory pathway, as well as design and manage clinical studies. Dr. Krutchkoff is Executive Director of the 501c3 Institute of Regenerative and Cellular Medicine, which provides support for translational research and validation of regenerative therapies. Previously, Chief of Scientific Affairs for Lipogems US, Dr. Barbara Krutchkoff has worked tirelessly throughout her 25+ year career to engage with university and industry leaders to help bring regenerative medicine safely to patients.