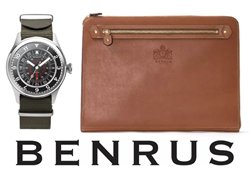 "With the changes we've seen in consumer shopping patterns and in retail in recent years, we felt it made sense to provide a more personal shopping experience to our customer's to compliment the more traditional ways."
New York, NY (PRWEB) February 06, 2018
BENRUS, the iconic American heritage brand, has opened its new showroom and ecommerce business in New York City. This marks a new chapter for the brand, as their beginnings date back to 1921 where they first established themselves in the famous Hippodrome building. Chief executive officer - Sara Fernstrom says "With the changes we've seen in consumer shopping patterns and in retail in recent years, we felt it made sense to provide a more personal shopping experience to our customer's to compliment the more traditional ways."
Over the years, BENRUS' progressive vision and innovative designs were notable as they soon became the watch of choice for the U.S. military and the third largest watch company in the country. Since then, multiple generations of luminaries, such as John F. Kennedy, Charles Lindbergh, Babe Ruth and Walter Johnson have worn the iconic BENRUS timepieces throughout history.
The BENRUS showroom is located in the heart of New York's Fashion District. Fashion buyers will be given exclusive access to the latest collections and upcoming pieces. Iconic BENRUS watches, vintage advertisements, historical relics and the brand's latest collection will be on display, giving new-comers an exciting brand experience. Customers can purchase past and current collections online on iPads or make direct purchases from the showroom. Online orders will then be shipped to customers' homes or get picked up in the showroom.
BENRUS has partnered with Craftwork Design Co. http://www.craftworkdesignco.com, to build out the new BENRUS ecommerce experience. Craftwork is a leading creative agency who provides fully managed enterprise level ecommerce solutions, among other services, for leading brands. The Craftwork team is highly experienced at developing meaningful ecommerce businesses for global brands and will work hand in hand with Lyft Brands Group to aggressively market and grow the new official BENRUS store. "We are beyond excited to partner with the Lyft Brands Group team to develop this historic American brand to its fullest potential. We feel that with the combined assets of our two organizations we are well positioned to do just that for BENRUS", says Jeff Combs, President, Craftwork Design Co. The parties are targeting an early February launch for the new store. BENRUS' up and coming collections will honor its rich historical past, while but will push modern and innovative designs that are relevant for today's market.
ABOUT BENRUS:
Founded in 1921, BENRUS began designing watches out of the legendary Hippodrome building in New York City. Soon thereafter the brand quickly grew into the third largest watch company in the U.S. For decades, BENRUS established itself as a major manufacture for the US army. Since then it has earned its place serving the US army and has evolved into an American lifestyle brand, reinventing luxury essentials for a new generation.
For more information, please visit: http://www.BENRUS.com.
ABOUT LYFT BRANDS GROUP:
Lyft Brands Group LLC is a brand management company that licenses world renowned brands across multiple categories, industries and territories through strategic planning, impactful marketing and long-term partnerships with industry leading licensees and operators. LBG targets quality brands with established recognition and strong long-term growth potential. Our partners share the company's vision and approach towards expanding brand presence and driving revenue. For more information, please http://www.lyftbrandsgroup.com
ABOUT CRAFTWORK DESIGN COMPANY, LLC
Craftwork Design Company is a full service creative agency who develops greater connections between brands and their audiences through product and content. We enable our partners to more fully monetize their brands through creative design, product development and managed ecommerce solutions. Craftwork also develops compelling lifestyle content to drive increased consumer engagement and commerce conversion through social channels. Craftwork provides all their services, including domestic and international sourcing, production, in-house on demand printing, fulfillment, customer care and photography production and editing, from our headquarters in Huntington Beach, CA.