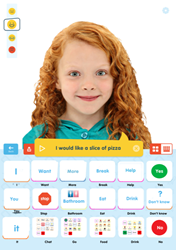 Inner voice is a great value. No, an amazing value. And it's changing the life of a nonverbal 22 year old.
SAN FRANCISCO (PRWEB) February 13, 2018
Say hello to the future on communication technology. InnerVoice offers a combination of, patent pending features and science that will bring assistive technology into the spotlight and make universal design common practice.
Designed by speech-language pathologists, assistive technology specialists, and educators, InnerVoice is perfect for non-verbal learners, parents, teachers, therapists, or people with no disabilities: InnerVoice makes communication available to anyone.
InnerVoice can work like a typical AAC device: letting your thoughts and feelings be heard and understood by others. Unlike traditional AAC apps, though, InnerVoice combines facial expressions, emotions, written words, and actions with speech, providing a complete multi-sensory learning experience (Multi-Sensory Semiotics).
Choose an avatar from a library of faces, use a photo of your student, or one of their favorite characters, and watch them come alive in the app! Avatars move, emote and, most importantly, speak! Watching a face that the learner connects with helps increase imitation and engagement, and it's a lot of fun, too.
InnerVoice has full, native support for both English and Spanish.
App Features:
SPEAK - tap the mouth or the speech bubble and hear the avatar say your words aloud
SHARE - your avatar will deliver any message to friends, family or social media
ACTION - add actions to any button to represent verbs, emotions and concepts by using GIFs, videos and Live Photos
GIFs - increase your ability to express yourself by adding a GIF to any button.
SEE YOURSELF - take a photo of yourself, a toy, a drawing, and watch it come to life
EMOTE - make facial expressions on your avatar's face: happiness, sadness, or anger
CUSTOMIZE - create new buttons and edit layouts with ease
SAVE YOUR WORK - ensure that all customizations are safe from accidental deletions or crashes.
Enhance with other apps:
Use the SmartySymbols and the simple button-editing system to add a pre-recorded or text-to-speech label to your favorite symbols.
With the MyScript Stylus keyboard, handwrite your message, and watch your writing appear as text.
Use a translator app and your avatar will speak your chosen language or translate your words into your chosen language.
A NewSchools Venture-funded, National Science Foundation SBIR-funded, Autism Speaks-funded and Mensa award-winning app, InnerVoice unlocks your ability to communicate through its unique, entertaining, and engaging combination of iTherapy, LLC research and design; NeoSpeech text-to-speech software; and MotionPortrait, Inc facial recognition and animation software.
InnerVoice is designed by iTherapy, LLC, a company of speech-language pathologists and educators who work with people with autism, dyslexia, and other communication disorders.
InnerVoice teaches communication using a unique patent-pending process called Multi-Sensory Semiotics: which pairs sensory stimuli -- anything from movements, touch, or sound -- with auditory symbols (words), visual symbols (text), or gestural symbols (sign language).