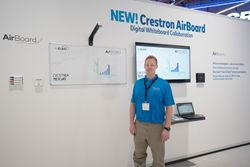 "AirBoard delivers a far better experience than electronic whiteboards because it works exactly the way people are used to working. Even better, it's far more cost effective than other electronic whiteboards so you can deploy it across all your spaces instead of picking and choosing." -Fred Bargetzi
San Mateo, California (PRWEB) February 07, 2018
Kaptivo, the company bringing analog whiteboards into the digital enterprise collaboration space, today announced a worldwide strategic partnership with Crestron, a global leader in workplace technology. Kaptivo partnered with Crestron to develop AirBoard, a custom solution that seamlessly brings whiteboard collaboration to the entire Crestron portfolio, including Crestron Mercury®, the only open UC solution.
With today's announcement at Integrated Systems Europe, Crestron customers can now digitally share their traditional whiteboard via Crestron Touch Screens, video products and Crestron Mercury. The whiteboard and video conference integration provides a seamless unified communications and collaboration solution within any meeting room without having to change how users work on a time-tested whiteboard.
Using Kaptivo's embedded image processing software, the Crestron AirBoard produces crisp, vibrant whiteboard images without glare or any occlusions and makes it available to users on their personal devices in the classroom or around the world. AirBoard's images are as clear as content created on a costly digital writing surface. The secure system means that individuals no longer have to struggle with sharing whiteboard content via phone or web cameras that are inadequate and cumbersome.
"We are delighted to partner with Crestron, who have a clear leadership position in the AV market. This opens the door to thousands of new enterprise customers who seek a solution to the common challenge of using whiteboards as part of remote collaboration," says Nic Lawrence, CEO of Kaptivo.
"Finally, the last analog component in meeting rooms and classrooms - the whiteboard - is online," said Fred Bargetzi, Crestron CTO. "AirBoard delivers a far better experience than electronic whiteboards because it works exactly the way people are used to working. Even better, it's far more cost effective than other electronic whiteboards so you can deploy it across all your spaces instead of picking and choosing. Quite simply, it's groundbreaking enterprise-grade technology at a groundbreaking price."
The AirBoard hardware and subscription service will be available through Crestron channel partners starting in May 2018.
For more information about AirBoard, please visit http://www.crestron.com/airboard.
About Kaptivo
Kaptivo's mission is to enhance collaboration by providing a bridge between the physical and digital worlds. Their products provide whiteboard live streaming and image capture for enterprise and education markets. Kaptivo develops and applies leading-edge optical technology, image processing, and embedded computer vision software. Kaptivo has offices in Silicon Valley, California, and Cambridge, UK. Kaptivo is the trading name of Light Blue Optics. For more information, please visit http://www.kaptivo.com.
About Crestron
Crestron has been a global leader in enterprise, government, and educational room control and automation for more than 40 years. Our ready-to-deploy classrooms and meeting rooms and spaces make it easy to deliver consistent meeting, presentation, and conferencing experiences on a large scale. Built for the enterprise, Crestron room solutions offer simple cloud-based provisioning and management, and support standard network security policies. Crestron Fusion® monitoring and scheduling software adds a layer of intelligence to maximize system uptime, and optimize device and room usage.
Our products are backed by more than 90 fully-staffed offices that provide 24 x 7 x 365 sales, technical, and training support across the globe. In addition to its World Headquarters in Rockleigh, New Jersey, Crestron has sales and support offices throughout the U.S., Canada, Europe, Asia, Latin America, and Australia. Discover Crestron by visiting http://www.crestron.com.