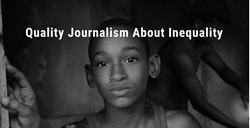 NEW YORK (PRWEB) February 06, 2018
For the second time in four years, the Economic Hardship Reporting Project (EHRP) has supported and co-published work that is among the finalists for a National Magazine Award, this time as part of a package from Oxford American magazine.
The 2018 nomination in the General Excellence in the Literature, Science and Politics category recognizes Oxford American's work across three of the magazine's 2017 issues. Highlights include a nearly 12,000-word EHRP-supported feature, "The Socialist Experiment," by Katie Gilbert. Gilbert's article profiles Mayor Chokwe Antar Lumumba of Jackson, Miss., and his vision for a progressive local government.
In 2014 the EHRP-supported multimedia work "The Last Clinic," published by The Atavist, was nominated in the video category.
"We are so happy to have supported the great magazine Oxford American as it again obtained a much deserved nomination for General Excellence," said Alissa Quart, EHRP's executive editor. "We are thrilled that Katie Gilbert's feature on Mississippi, an underexamined state that experiences epic levels of poverty, has received recognition as well."
Established in 1966, the National Magazine Awards, which honor print and digital media, are sponsored by the American Society of Magazine Editors (ASME) in association with the Columbia University Graduate School of Journalism. Considered ASME's most prestigious honor, the award for General Excellence is judged based on "the achievement of editorial, visual and functional superiority in print, online and in person; the cross-platform integration of print, digital and experiential content; and the editors' success in serving the interests of their readers."
The 2018 winners will be announced in New York during a luncheon at Cipriani Wall Street hosted by CNN's Don Lemon.
ABOUT THE ECONOMIC HARDSHIP REPORTING PROJECT
The Economic Hardship Reporting Project, a journalism nonprofit founded in 2012 by Barbara Ehrenreich, aims to change the national conversation around poverty and economic insecurity. The stories that EHRP commissions—from narrative features to photo essays and video productions—put a human face on financial instability. EHRP has placed its contributors' reportage and photojournalism with such newspapers and magazines, national broadcasters, and online news sites as The New York Times, NBC News, Politico, The Verge, Vox, Vogue, The Atlantic, The New Yorker and many others.
Connect with us on Facebook: https://www.facebook.com/EconomicHardshipReporting/