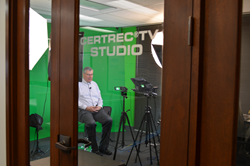 "I am very happy to assist Certrec with this very important project. I am a great believer in knowledge transfer, and I appreciate the opportunity to share some of my regulatory experiences through the Certrec videos." ~ Steve Frantz
FORT WORTH, Texas (PRWEB) February 06, 2018
Certrec, a leading licensing and regulatory compliance service provider that supports NRC and NERC compliance, announced today that retired nuclear regulatory attorney Steve Frantz visited the Certrec®TV studio to record videos about a wide variety of topics.
In October 2017, Certrec released a brand-new, first-of-its-kind tool, Certrec®TV, to assist its clients in sharing information and knowledge through the use of Just in Time videos. Each –three-to-five minute video is presented by a seasoned industry expert who shares their thoughts, insights, and explanations of complex industry issues. From a discussion of Defense in Depth to good practices for meeting with inspectors, Just in Time videos are invaluable as a refresher or for new staff.
Mr. Frantz, a retired partner from the law firm of Morgan Lewis, received a degree in Nuclear Engineering and was a nuclear regulatory attorney for almost 40 years. He has been an industry leader regarding the licensing of new nuclear power plants by assisting clients in the regulatory process. He was involved in the first design certification, the first early site permit, and the first combined license issued by the NRC. Over the years, he also assisted a number of nuclear power plants with significant regulatory problems, including helping clients to develop performance improvement plans and obtain NRC approval to restart. His involvement included representing clients during investigations by the NRC Office of Investigations and by the Office of the Inspector General. He participated in numerous licensing proceedings and hearings, including representing clients in several cases before the U.S. courts.
"We are very pleased to have someone with Steve's background in the studio recording videos," said Ted Enos, Certrec President. "Steve is a very well-known attorney in the nuclear industry and I am very excited to have a platform where he can share his insights and knowledge."
"I am very happy to assist Certrec with this very important project. I am a great believer in knowledge transfer, and I appreciate the opportunity to share some of my regulatory experiences through the Certrec videos." ~ Steve Frantz
"As an industry, we have needed a way to capture knowledge that walks out the door with our retirees and to share it with the workforce that is left behind. We have pioneered the development of Certrec®TV with a goal of gathering industry information for enhanced sharing and knowledge migration," commented Enos.
Whether you are new to the nuclear industry or a 40 year veteran, Certrec®TV can be a very beneficial tool for anyone looking for an answer to a specific question, a quick refresh on a key issue or question, or simply an opportunity to learn more information in a quick and concise format about a topic of interest.
CERTREC
Founded in 1988, Certrec is an engineering and technology-based organization that provides regulatory support services in the electric power industry. With more than 1,000 cumulative years of direct industry experience (including nuclear, fossil, and renewables), Certrec has developed exceptional capabilities to support regulatory activities emanating from regulatory entities such as the Nuclear Regulatory Commission (NRC), the North American Electric Reliability Corporation and Regional Entities (NERC), the Federal Emergency Management Agency (FEMA), and other regulatory agencies. Certrec's Office of Licensing and Compliance (OLC), Office of Assessment and Recovery (OAR), Office of NERC Compliance (ONC), and Office of New Plant (ONP) services are used by utilities and entities across the United States to help manage the regulatory process to their advantage.
Certrec offers support from highly skilled and experienced industry professionals who possess degrees in a variety of engineering disciplines (Civil, Electrical, Mechanical, and Nuclear). Additionally Certrec's staff has numerous degreed personnel in physics, communications, business administration, and information technology. This highly skilled team has direct working experience in all regulatory areas of licensing, compliance, and engineering, including nuclear, fossil, and renewable generation and transmission.
For more than 25 years, Certrec has been applying its industry experience to help clients develop and manage solutions to complex regulatory issues. Such experience combined with Certrec's Information Technology assets has led to the development of technology-based solutions and tools directly targeted to the electric power industry and specifically focused on helping clients manage those issues.