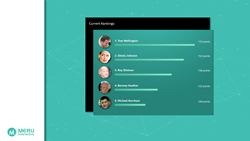 Drive higher evaluation response rates and drive attendees to the show floor with EventScore!
SEATTLE (PRWEB) February 08, 2018
Today Validar Inc, a leading provider of lead management technology for event marketers, and in partnership with Meru Interactive, announces the release of EventScore for Event Marketers. EventScore provides event marketers with a means to influence attendee behavior by applying an adjustable score to implicit or explicit attendee activity at face to face events. Now with EventScore, you can provide incentive to attendees to participate and provide feedback at breakout sessions, product demos, and expo hall visits. EventScore is an event branded HTML5 application that can be presented on a large leaderboard or mobile app, depicting an individual attendees overall score based upon his or her actual activity whether tracked implicitly via BLE or explicitly by scanning.
This solution is perfect for event producers looking for ways to encourage and drive attendee traffic to breakout sessions, product demonstrations, sponsor visits and other event experiences.
"Event Sponsors are key to our customers event success. EventScore provides an ideal framework to drive attendees to the show floor. Also, by incorporating feedback and evaluation responses to the gamification, we can now drive a higher evaluation response rate and more "call to action" conversions for our customers," says Victor Kippes, CEO of Validar.
To learn more about Validar's EventScore application, please visit http://www.Validar.com.
"Our partnership with Validar takes the growing trend of gamification to the next level by leveraging Meru Interactive's platform and expertise in incentivizing attendee engagement using new and innovative technologies," says Jay Raines President and Co-founder of Meru Interactive.
More about Validar
Validar Inc. is the leading provider of lead management, lead capture, registration, and feedback technology for event marketers. Validar's technology and services help customers close the loop between event marketing and sales by providing the ability to drive relevant activity to sales while measuring the performance of their event marketing campaigns.
More about Meru Interactive
Meru Interactive is a leading creator of engaging experiences in the live events industry, utilizing a mixture of custom programming, high end media servers and the latest invocative technologies to bring experiences to life.
Additional news and information about the company is available at http://www.Validar.com/
OR contact: Victor Kippes, victork(at)validar(dot)com (206)577-1123
Additional news and information Meru Interactive is available at http://www.meruinteractive.com/ OR contact: Jay Raines Jay(at)meruinteractive(dot)com (630)877-0148