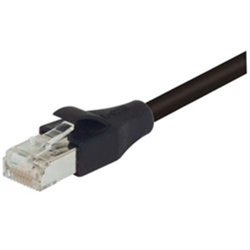 "These rugged, shielded Ethernet cable assemblies were developed to address harsh military and industrial applications in the field," said Mark Hearn, Product Manager
LEWISVILLE, Texas (PRWEB) February 07, 2018
MilesTek, a leading manufacturer and supplier of products designed to address military and avionics applications, announced today that they have released a new series of shielded industrial Ethernet patch cords with low-smoke zero-halogen (LSZH) jackets to address demanding military and industrial Ethernet connectivity applications.
These robust LSZH Category 5e-rated assemblies can be used in multiple applications, including mobile and fixed military communications networks, automation and manufacturing, oil and gas, or in any application where harsh environments exist.
Featuring all-metal-body RJ45 connectors and aluminized polyester shielded cable with drain wire, these assemblies are designed to protect from EMI/RFI while maintaining high performance data transmission characteristics. Additionally, LSZH jackets protect valuable communications equipment and lives in the event of a fire.
"These rugged, shielded Ethernet cable assemblies were developed to address harsh military and industrial applications in the field. The low-smoke zero-halogen jackets were developed for use in confined areas such as communications rooms, tanks, ships, aircraft or in any confined mobile or fixed network," said Mark Hearn, Product Manager.
These new shielded LSZH Ethernet cables are in stock and available for immediate shipment.
For more information about this release, please contact:
Peter McNeil
MilesTek
17792 Fitch
Irvine, CA
978-682-6936 x1174
About MilesTek:
MilesTek designs and manufactures a broad range of MIL-STD-1553B and Ethernet connectivity products to address Military Avionics, Aerospace, Industrial and government applications. In addition to a wide selection of off the shelf products, MilesTek can custom manufacture cable assemblies and harnesses. MilesTek is headquartered in Lewisville, Texas and is AS9100C and ISO9001:2008 certified. MilesTek is an Infinite Electronics company.