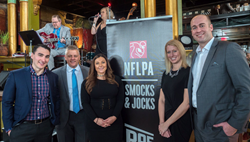 EarQ members are primed to be the driving force behind hearing healthcare for pro athletes.
(PRWEB) February 06, 2018
On February 3, 2018, The NFL Players Association's Professional Athletes Foundation and EarQ joined together at Smocks and Jocks, a charitable art auction held before the Super Bowl at the Loring Bar and Restaurant in Minneapolis, Minnesota.
Each year, EarQ proudly participates in this exclusive NFLPA event that features artwork of current and former professional football players. Proceeds from Smocks and Jocks go to the Gene Upshaw Players Assistance Trust, an organization that helps former players in need of financial assistance or those who wish to continue their education.
The well-being of former professional football players is something that EarQ and the NFLPA have been focused on for more than six years. Through their efforts, the partnership aims to find hearing healthcare solutions and drive a nationwide hearing loss awareness movement for former players and their fans.
EarQ attends player events throughout the year to make this happen. As a prestigious network of over 1,400 provider locations, EarQ partners with independent hearing healthcare professionals across the country, and many are active in EarQ's work with the NFLPA. EarQ and its members provide free hearing screenings, hearing aid fittings, follow up care, and hearing healthcare education to former players and their families. They are also collecting data and conducting research on the correlation between pro athletes and hearing loss.
"EarQ members are primed to be the driving force behind hearing healthcare for pro athletes," says Ed Keller, president of EarQ. "We are proud of all we have accomplished thus far and look forward to where our work will take us next."
To learn more about EarQ and its partnership with the NFLPA's PAF, please call 866-432-7500.
About EarQ:
A prestigious nationwide network of independent hearing healthcare providers, EarQ utilizes innovative business and marketing practices as well as national public awareness efforts to advocate for excellence in the industry and patient care. Through its 1,400 hearing healthcare provider locations nationwide, EarQ helps provide greater access to quality hearing healthcare services and products.
About the NFLPA's Professional Athletes Foundation:
The National Football League Players Association (NFLPA) is a non-profit, professional sports union that protects the best interests and welfare of all NFL players. It serves as the exclusive bargaining agent for all NFL players in collective bargaining. Established in 1956, the NFLPA has a long history of assuring proper recognition and representation of players' interests. The NFLPA is governed by a Board of Player Representatives, acting in accordance with the NFLPA Constitution and federal labor laws.