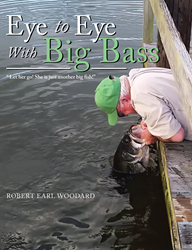 BLOUNTSVILLE, Ala. (PRWEB) February 12, 2018
An experienced bass fisherman, whose video of him catching a more than 16-pound bass by hand went viral in 2016, has published his practical beginner's guidebook to growing and catching trophy bass.
In "Eye to Eye with Big Bass: 'Let Her Go! She is Just Another Big Fish!'," author Robert Earl Woodard details the bass movements, behavior and feeding patterns that factor into a successful catch and delineates his own lake construction and management practices, which he uses to grow trophy bass and house his pet bass. Woodard also delivers colorful accounts of his numerous Alabama fishing trips and reflects on the nuanced techniques he's acquired over decades of catching and interacting with bass.
"I want this book to give the reader an understanding of the tools and strategies I used to find success in my fishing career so that they can take that knowledge on their next fishing trip – hopefully to catch their own trophy," Woodard said.
Peppered with entertaining anecdotes and nostalgic photographs that span Woodard's more than 50 years of fishing, "Eye to Eye with Big Bass" offers new fishermen and fisherwomen an easy-to-follow introduction to the art of recreational bass fishing, aquaculture and pond and lake management.
"Eye to Eye with Big Bass: 'Let Her Go! She is Just Another Big Fish!'"
By Robert Earl Woodard
ISBN: 9781546213062 (paperback); 9781546213055 (electronic)
Available through the AuthorHouse Online Bookstore
About the author
Robert Earl Woodard has more than five decades of experience catching and growing trophy bass. Currently retired, Woodard spent 38 years as a physical education teacher and sports coach and holds a master's degree from Auburn University. He is also the author of "The Way It Was Back Then: Short Stories From a Country Boy" and currently resides in Blountsville, Ala. To learn more, please visit the author's YouTube channel.
Review Copies & Interview Requests:
LAVIDGE – Phoenix
Danielle Grobmeier
480-648-7557
dgrobmeier@lavidge.com
General Inquiries:
LAVIDGE – Phoenix
Maggie Driver
480-998-2600 x 584
mdriver@lavidge.com