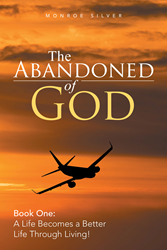 POLLOCK, La. (PRWEB) February 12, 2018
A Louisiana-based U.S. Army veteran and author has released his debut adventurous fiction book, which follows the stories of father Matthew Lee Stuart and son Mason Cole Stuart who, after having similar tragic life experiences 40 years apart, unravel the truth behind their shared but distant pasts.
Told from the perspective of the younger Stuart, "The Abandoned of God: A Life Becomes a Better Life Through Living!," by Monroe Silver, chronicles the duo's separate experiences in the U.S. Army and follows the elder Stuart's unique adventures as a soldier during his 22-year military career from 1925 through 1947. As Matthew imparts his storied past to his son, he also tells him of the spiritual wars that continue to rage on earth and warns him of the biblical fate of King David: that acts of blood lust, revenge and ruthlessness sadden God and, ultimately condemn the man who commits them.
"Monroe Silver's 'The Abandoned of God: A Life Becomes a Better Life Through Living!' furnishes readers with a uniquely posed tale which approached the many effects of traumatic life events on spirituality and the connotations of God's presence in life from a distinctly unusual perspective," a reviewer for the Pacific Book Review wrote about the book.
The first installment in an anticipated series, "The Abandoned of God" take readers, alongside Matthew, from Hawaii in 1925 with Major George S. Patton through a volunteer rescue mission to China in the 1930s, duty in the Panama Canal Zone, Japan's attack on Pearl Harbor, the Battle of Christmas Island, the Battle of the Bulge and other historic military events. The second book in Silver's series was recently released and is also available for purchase.
"The Abandoned of God: A Life Becomes a Better Life Through Living!"
By Monroe Silver
ISBN: 978-1-5434-3824-6 (hardback); 978-1-5434-3823-9 (paperback); 978-1-5434-3822-2 (electronic)
Available at the Xlibris Online Bookstore, Barnes & Noble and Amazon
About the Author
Monroe Silver is a former investment councilor and sales director and served for six years in the U.S. Army. Silver holds a master's degree from Northwestern University and enjoys writing and practicing yoga in his spare time. He currently resides in Pollock, La. To learn more, please visit http://www.monroesilver.com.
Review Copies & Interview Requests:
LAVIDGE – Phoenix
480-648-7557
dgrobmeier(at)lavidge(dot)com
General Inquiries:
LAVIDGE – Phoenix
480-998-2600 x 584
mdriver(at)lavidge(dot)com