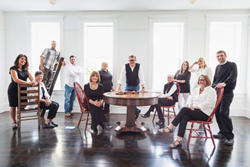 "Kibler & Kirch's three decades of interior design is testament to our deep roots in the West," says owner Jeremiah Young.
BILLINGS, Mont. (PRWEB) February 07, 2018
At the start of each new year Mountain Living magazine reveals its coveted list of top architects and designers in the mountain West region, a guide that highlights the region's most influential design professionals. Making the list in this year's January/February 2018 issue currently on newsstands is interior design firm Kibler & Kirch, with design studios in both Red Lodge and Billings, Montana. The fresh Mountain Living honor follows closely on the firm's recent Best Interior Design win at the 2017 Western Design Conference in Jackson Hole, Wyoming.
While this isn't Kibler & Kirch's first appearance on Mountain Living's roundup of top firms, "We appreciate the magazine's continued esteem of our work," says owner and principal Jeremiah Young. "Kibler & Kirch's three decades of interior design is testament to our deep roots in the West, and we're thrilled by this recognition from a magazine that serves as such an important tastemaker for mountain West communities."
Specializing in comfortable, timeless designs that incorporate inspiring regional art, innovative bespoke furnishings and creative rustic-modern detailing that captures the Western lifestyle, Kibler & Kirch works closely with clients to design meaningful, artful and functional spaces. Young's team in Billings operates out of the 1904 Stapleton Building in downtown Billings, which serves as a combined showroom, design studio and chic gathering place for vendors and clients.
Called "a masterpiece of thoughtful and creative design" by Big Sky Journal magazine, Kibler & Kirch's 4,000-square-foot showroom is only part of Young's painstaking historic preservation of Billings' largest turn-of-the-century commercial building, which anchors an important corner in the hip town center of this city that was named Best Town in the U.S. by Outside magazine in 2016. (Big Dipper Ice Cream, pictured at the end of Outside's short video about Billings boasts a Kibler & Kirch-designed interior.)
Kibler & Kirch also was recognized in 2017 by the jury of the Western Design Conference in Jackson Hole, who awarded the firm Best Interior Design for its work creating the dining room of the Designer Show House, a true-to-scale home constructed in the center of the event space with six professionally designed rooms to inspire visitors.
Presented as "an exclusive guide to the most talented and influential architects and interior designers at work in the West today," Mountain Living's "The ML List: Top Architects & Designers 2018" includes firms from eight mountain states and Canada. Kibler & Kirch is one of 19 interior design firms from across the state of Montana honored on this year's list.
About Kibler & Kirch:
Kibler & Kirch has been enriching the lives of its Mountain West clients by creating homes to uniquely meet their needs, desires and aesthetics for nearly 30 years. In 2010, Jeremiah Young purchased the already-venerable Kibler & Kirch firm, founded in 1990 in Red Lodge, Montana, and further expanded it with the Billings showroom and design studio in 2015. Called "one of the most highly regarded design enterprises in the American West" under Young's leadership by Big Sky Journal, Kibler & Kirch is as much design laboratory as atelier, launching the nearby Stapleton Gallery to curate local art and stocking the popular Red Lodge Kibler & Kirch storefront with sought-after furnishings and accessories – in addition to custom-designing everything from furniture to entire buildings and offering clients every level of hands-on design services from remodel through complete blueprint-to-candlelight-dinner turn-key experiences. For additional information visit http://www.kiblerandkirch.com.
Contact: Anne McGregor Parsons, Word PR + Marketing, anne(at)wordprmarketing(dot)com, 303.777.7667