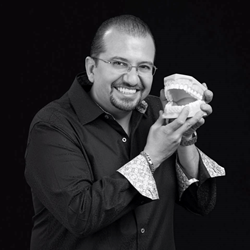 HUNTINGTON BEACH, Calif. (PRWEB) February 07, 2018
Diabetes affects every part of the body, including the mouth. When blood glucose levels are poorly controlled, the body is less able to respond to opportunistic infections, such as gum and other oral infections. Huntington Beach dentist, Dr. Rassouli, explains the effects of diabetes on oral health.
The mouth, which is the gateway to the rest of the body, is home to millions of bacteria. In a healthy body, the immune system keeps the unhealthy bacteria under control and can fight off minor gum infections such as gingivitis. In those with diabetes, the body struggles with inflammation that makes it harder to battle infections. This can lead to more serious forms of gum disease. Unfortunately, gum disease and other infections can make it harder to control blood sugar levels, and patients can be facing complications due to both diabetes and gum disease.
Diabetics can take steps to protect their teeth and gums, including:

Maintaining good blood sugar control to reduce the fluctuations that can weaken their immune response and eliminate the highs that feed oral bacteria
Scheduling regular dental appointments at least every four to six months to ensure healthy gums and avoid dental problems
Monitoring for symptoms of gum disease, including oral sores that do not heal, a change in bite, gums that pull away from the teeth, chronic bad breath, inflamed gums or swollen gums
Following good dental hygiene practices at home, including brushing at least twice a day and flossing daily
Huntington Beach dentist, Dr. Rassouli, offers an extensive selection of dental treatments, including preventive care, restorative treatments and periodontal therapies. Available options include pinhole surgery, treatments for gum recession, dental implants, same day crowns, emergency dental care, teeth whitening, sleep apnea treatments, dental sedation, root canal treatments and orthodontics.
About Dr. Rassouli
Dr. Rassouli is the co-founder of the South Coast Dental Academy, an organization that is dedicated to providing Huntington Beach-area dentists with continuing education opportunities. As an avid believer in the importance of education, Dr. Rassouli stays current on the latest technology and products. During his time at USC, he served on the Accreditation Committee and was recognized for his academic accomplishments. After graduation, he served as a part-time clinical faculty member and was a member of the prestigious Century Club.
Source: https://health.usnews.com/health-care/patient-advice/articles/2017-12-19/how-diabetes-affects-your-oral-health