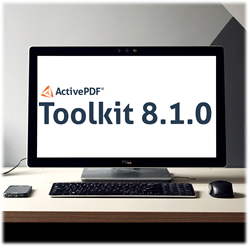 Toolkit 8.1.0 enriches the developer experience and expands upon an already robust PDF solution.
Laguna Niguel, Calif. (PRWEB) February 20, 2018
ActivePDF, the leading provider of PDF automation solutions, has announced the release of DocGenius™ Toolkit 8.1.0. The company's flagship product now includes improved performance enhancements and code changes.
Licensed for per server instances, Toolkit is the premier solution for high-volume PDF creation and manipulation. Toolkit allows developers to take full control over PDF output while choosing between working in .NET API or COM environments on 32-bit or 64-bit systems. With the release of Toolkit 8.1.0, developers can do more with automated PDF than ever before.
"As we embark into 2018, it is only fitting that our first major release comes from the Toolkit team," says Tim Sullivan, ActivePDF Chief Architect and CEO. "Toolkit 8.1.0 enriches the developer experience and expands upon an already robust PDF solution. While this is just the beginning of a year packed with planned product upgrades and improvements across our product lines, we are proud to kick off the year with a performance-enhanced Toolkit 8.1.0."
Toolkit 8.1.0 includes general updates to the code for improved high performance, as well as updates to the Toolkit barcode library.
Enhancements include:

Upgraded barcode library to enhance barcode functionality and special handling of Code 39 Symbology
Improvements to better manage PDF form fields
Advances to the code in the open file function for powerful processing performance
Updates to the code in Merge function to improve merging PDF files with form fields
Applied unique algorithm to fix file-specific PDFs
Squashed small file-specific bugs
Learn more about the capabilities of Toolkit 8.1.0 on the ActivePDF Release Notes. For the Toolkit quick reference guide, please visit ActivePDF documentation page. Download your own Toolkit 8.1.0 free trial here.
About ActivePDF
Founded 2000, ActivePDF Inc., is privately held and is a global provider of PDF tools for integration within virtually any business process, including Enterprise Content Management (ECM), Document Management, and Workflow solutions. The ActivePDF suite is designed to streamline large volumes of rendering and assembly of content into accurate, secure and accessible PDFs. We serve over 25,000 customers from 90 countries in numerous industries including: Healthcare, Financial, Education, Manufacturing, Utilities, Engineering, Legal and Government. For more company information, visit ActivePDF at http://www.ActivePDF.com.
For additional information, please contact:
Derek Gerber, Director of Marketing
derek.gerber@activepdf.com
####