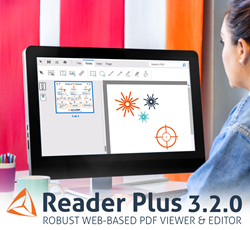 ...Reader Plus 3.2.0 is quickly becoming the standard for viewing and editing PDF in a browser-based, high-volume environment.
LAGUNA NIGUEL, Calif. (PRWEB) February 26, 2018
ActivePDF, a global leader in high-volume PDF automation, recently announced the release of DocSpace Reader Plus 3.2.0, a robust browser-based PDF viewer and editor.
Reader Plus enables end users to easily edit and view PDF documents in web applications, quickly accessible through their browser. External applications and plug-ins are no longer required as content is rendered accurately, on-demand, keeping native PDF files secure behind the scenes. Reader Plus 3.2.0 now allows developers to accomplish even more PDF-related tasks, such as attaching e-signatures and brings annotations to rotated pages.
"We knew that when we originally released Reader Plus, we were laying down the groundwork for a powerful PDF web-based viewer and editor with great growth potential," says Tim Sullivan, ActivePDF Chief Architect and CEO. "Now, with this recent release, Reader Plus 3.2.0 is quickly becoming the standard for viewing and editing PDF in a browser-based, high-volume environment. This is just the beginning of upgrades in our product line as we hit the accelerator and head into 2018."
Reader Plus 3.2.0 enhanced features include:

User Interface (UI) improvements for better end user experiences
Handwritten and typed electronic signature support for streamlining transactions
Support of SQL Server database for high-volume and scalable deployments
Reader Plus 3.2.0 also provides added security in a browser-based viewing and editing environment. Organizations retain the PDF behind their firewall to secure the content within the documents, while allowing for personal, authorized productivity. For further security, Reader Plus 3.2.0 gives users the ability to disable the print and download options for sensitive files, solving a frequent problem faced in the industry.
Learn more about Reader Plus 3.2.0 on the ActivePDF Release Notes page. Download the Reader Plus trial here.
About ActivePDF
Founded 2000, ActivePDF Inc., is privately held and is a global provider of PDF tools for integration within virtually any business process, including Digital Transformation, Enterprise Content Management (ECM), Document Management, and Workflow solutions. The ActivePDF suite of technologies and solutions are represented amongst 40% of Fortune 500 companies and is designed to streamline large volumes of rendering and assembly of content into accurate, secure and accessible PDFs. We serve over 25,000 customers from 90 countries in numerous industries including: Healthcare, Financial, Education, Manufacturing, Utilities, Engineering, Legal and Government. For more company information, visit ActivePDF.com.
For additional information, please contact:
Derek Gerber, Director of Marketing
derek.gerber(at)activepdf(dot)com
####
ACTIVEPDF and the ActivePDF Logo are registered trademarks of ActivePDF, Inc. All other trademarks are property of their respective owners.