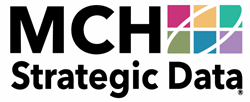 "It's critical to build growth and retention strategies with clean, rich and accurate data. If we can help businesses make more meaningful connections with greater insight, we consider that a success."
KANSAS CITY, Mo. (PRWEB) February 08, 2018
Salesforce.com hand-picked MCH Strategic Data to be one of the first data providers for their Lightning Data Engine. Lightning Data uses sophisticated algorithms and machine learning to make it easy to implement and deliver insights from trusted sources such as MCH.
MCH provides quality healthcare data for over 600,000 institutions across the United States. Customers can gain greater intelligence on healthcare institutions or choose to append nearly 100 attributes to a current data set.
The healthcare industry is rapidly evolving, and so is the need for analytics and business intelligence. Organizations know that they need to find solutions in order to compete in a volatile environment. Lightning Data provides a platform that makes it easy to get the intelligence and insights needed.
Customers use MCH healthcare data to rank, score, build segments and prioritize outreach. This information can be used to fuel sales and marketing efforts and help uncover new opportunities.
"Our long-term goal is to make MCH data available across multiple channels," said Angela Ridpath VP Marketing for MCH Strategic Data. "It's critical to build growth and retention strategies with clean, rich and accurate data. If we can help businesses make more meaningful connections with greater insight, we consider that a success."
For more information, visit MCH in the Lightning Data Engine.