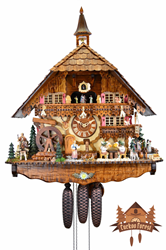 We're very proud to be an authorized cuckoo clock distributor for August Schwer. - Cuckoo Forest
(PRWEB) February 07, 2018
The Black Forest Association (Vds) has announced it's 2017 Clock of the Year 1st prize winner August Schwer. Cuckoo Forest, an authorized distributor for August Schwer, is very proud of this winning. This beautiful clock perfectly depicts everything cuckoo clock lovers and makers hold dear. Click this link to see all of the award winning cuckoo clocks from August Schwer:
https://www.cuckooforest.com/blogs/cuckoo/august-schwer-clock-of-the-year-award
August Schwer has become synonymous with quality clock design. Founded in 1885, the company is known the world over for its high-level clocks, award-winning designs, and over all "Black Forest" feel.
Andy Winter, owner and operator of Augusr Schwer since 2000, has continued the company's heritage of excellence. Winter has garnered many cuckoo clock awards since taking over August Schwer, including Clock of the year 8 times since 2004.
Every year, the most special clocks, manufactured in the Black Forest, have the chance to participate in the annual "Black Forest Clock of the Year" competition. The major workshops present their most elaborate model of the year and popular vote decides the winner.
Click this link to learn more about the award from the Black Forest Association's official website:
http://www.black-forest.org/
Winners are often displayed in a public museum so the visitors can marvel at the works of art. The collection of the Black Forest Clock of the Year is a demonstration of the stunning craftsmanship, design, and mechanical engineering known far and wide from Black Forest region.
It's no small task to win clock of the year, the Black Forest Clock Association (VdS) has 70 members including manufacturers, suppliers and clock dealers. It's important to the association that the top-notch craftsmanship that goes into every Black Forest cuckoo clock be on full display in the choice of the winner. This year's clock from August Schwer is no exception!
A winning cuckoo clock embodies the joy that all owners of these works of art feel when they take a bit of the Black Forest home.

Practical value: A beautiful handmade timepiece that cuckoo's on the hour.
Esthetic value: Authentic Black Forest Cuckoo Clocks are hand crafted, from the wood choice to the clock mechanicals—the clock is displays impeccable craftsmanship inside and out.
For a close up look at clocks made by the award-winning August Schwer, visit the Cuckoo Forest selection. These clocks are every bit as charming as a stroll in the Black Forest.
For more information, visit https://www.cuckooforest.com
Media Contact:
Leah R.
Leah(at)cuckooforest(dot)com
(855) 999-6895