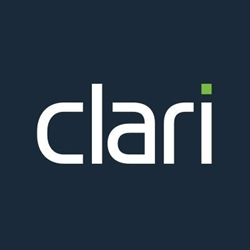 "Our rapid growth in 2017 illustrates a fundamental shift in the way companies sell and forecast," said Andy Byrne, CEO of Clari.
SUNNYVALE, Calif. (PRWEB) February 07, 2018
Clari, the leading provider of Opportunity-to-Close (OTC) solutions, today announced 3x YoY growth in companies running their sales teams on its AI-powered platform and a continued near-100 percent renewal rate.
In 2017, the company saw its platform rapidly adopted across industries with many of the most successful sales organizations now running their teams on Clari. Notable new customers include Adobe, Airbus DS, Audi, Check Point Software, Equinix, Epicor Software Corporation, GE, LogRhythm, and PerkinElmer.
Clari customers also reported in a recent survey hard ROI directly attributed to the use of Clari's Opportunity-to-Close platform, with 93 percent experiencing improved forecast accuracy and 60 percent achieving increased close rates.
"Clari gives me the visibility into my business I never had before around deal health, forecast accuracy, and reps' activities towards their goals," said Dave Woolwine, vice president of North America sales, Fuze. "For the first time, I am able to understand the status of my business without having to bother my managers and reps, and take away from valuable selling time."
The company also achieved the following growth milestones in 2017:
2.7x growth in daily active users, including sales reps, managers and executives
Nearly 200 million emails and 30 million meetings analyzed by Clari AI
Expansion of Clari's Opportunity-to-Close partner ecosystem, including new integrations with best-of-breed application providers DocuSign, ClearSlide and Xactly
Recognized as Gartner Cool Vendor in Tech Go-to-Market category
Named in G2 Crowd's Top 100 Software companies, Top 50 Mid-Market companies and Top 25 Silicon Valley companies
Recognized as a Bay Area top workplace for the third consecutive year
AI driving the next wave of sales technology
Sales teams are quickly recognizing the increasingly important role AI plays in the daily execution of the sales and forecasting process. By surfacing insights about the status of deals, the productivity of reps and the health of the pipeline, Clari's AI platform positions leaders to identify risk and take necessary actions to impact sales outcomes.
"Our rapid growth in 2017 further illustrates the fundamental shift in the way companies sell and forecast," said Andy Byrne, CEO of Clari. "We remain laser-focused on helping sales organizations leverage the power of AI to drive revenue by making selling easier and forecasting a more accurate science."
Clari a strategic weapon for C-level executives
While sales reps and managers use Clari everyday, senior executives responsible for the financial health of the organization are turning to Clari's platform for real-time visibility and predictive insights. The C-Suite is now using Clari to monitor the state of the business and identify where there's risk and upside to the forecast -- not just for long-term planning, but to run day-to-day operations.
"Clari gives me and our sales leadership a unique view into the forecast," said Mike Kourey, Chief Financial Officer of Medallia. "It provides visibility into committed bookings, upside, and any risks - driving action to predictably meet and beat our revenue targets."