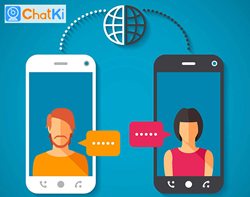 We can easily pinpoint the change from Adobe Flash to WebRTC technology as the moment Chatki's popularity exploded and we are working to offer new features and innovative technologies on a regular basis
LOS ANGELES (PRWEB) February 07, 2018
Chatki, a social video chat network which connects strangers with each other randomly, has witnessed an enormous surge in activity over the past 12 months. Having started the year outside the top 300,000 global websites rank according to Alexa.com, Chatki has risen over 250,000 places in a single year to rank within the top 50,000 global websites. The increased usership across Chatki's desktop and mobile-compatible video chat platform occurred immediately after the service changed from using Adobe Flash to a more flexible and innovative WebRTC technology.
WebRTC, or Web Real-Time Communication, is an open source collection of communication protocols and programming interfaces designed for use in real-time communications over peer-to-peer connections. The technology allows for more secure and stable transfer of video and audio between users of the Chatki video chat platform. Additional tweaks made to the software by Chatki's development team has provided users of the service with a customized multi-platform random video chat experience across almost all devices.
"The recent growth across Chatki's platforms over the past 12 months has been phenomenal," said Chatki Press Manager, Shea Robins, "We can easily pinpoint the change from Adobe Flash to WebRTC technology as the moment Chatki's popularity exploded and we are working to offer new features and innovative technologies on a regular basis."
Over the past year, the average number of users online at any given time has risen from 1,000 to over 10,000. This huge increase in users of the service has led to Chatki establishing over a billion connections between January 1st, 2017 and December 31st, 2017. The platform has also attracted an increasing number of users globally with the number of visits from users in the United States, Germany, Turkey, Italy, and Brazil, and many other countries continually rising. With this trend showing no signs of slowing down, Chatki is on course to have another record-breaking year in 2018.
About Chatki
Chatki is an innovative random video chat social network which connects users randomly via webcam chat. The free and anonymous service facilitates thousands of connections every day from users around the world. Chatki is a multi-platform video chat service which works seamlessly across desktop, mobile, and tablet devices.