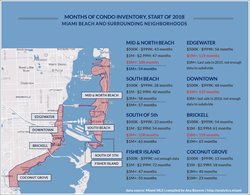 Last time around, the market required prices 50% lower than where we are today to clear half as much inventory as we have today. Either a giant new wave of buyers finds an appetite at today's high prices, or prices will have to fall to bring in new buyers. Which seems more likely to happen?
MIAMI BEACH, Fla. (PRWEB) February 08, 2018
Analytics.Miami launches the first annual State of the Market report for Miami condos and a special report tracking Miami condo inventory.
The findings are dire. Owners serious about selling are accepting 20% - 30% discounts off of their asking prices.
Simply put: there is so much inventory on the Miami luxury condo market, that to have any hope of selling, a property needs to be the best priced unit in its building.
Most neighborhoods have 100+ months of condo inventory at price points past $3M. To put this in perspective, In December 2017, Miami's prestigious South of 5th neighborhood had 128 active condo listings past $3M and only one sale. In the previous month, there were zero sales past $3M, leaving the neighborhood with 128 months of condo inventory past $3M.
The inventory situation is almost twice as bad as it was during the last crash, and 2017 closed off with a record high number of active listings.
_________________________________
Extreme conditions present today in the Miami condo market:
We are in an environment of falling sales volume + inventory accumulation. Inventory is at all time highs, and absorption rates are at all-time lows. Inventory has to clear before conditions can improve. For inventory to clear, prices have to drop much further, especially in the luxury market.
_________________________________
Miami Condos, Special Inventory Report Findings:
DOWNLOAD REPORT HERE
2017 closed out with Miami condo inventory at all time highs.
Snapshot of the situation, $1M-$3M Miami condos:
2017 year-end: 51 months.
Previous high, Nov 2010: 32 months.
Downtown Miami has 137 months of $1M+ condo inventory.
These are unprecedented levels of Miami condo inventory.
_________________________________
Miami Condos, State of the Market Report Findings:
DOWNLOAD REPORT HERE
2017 was the fourth straight year of a sales volume decrease.
Q4 2017 sales volume was at Q4 2009 levels.
Aggregate $ value of Miami condo listings is at all-time highs, due to number of $1M+ listings.
There is an enormous glut of luxury condos.
_________________________________
Locally supported segments vs. outside-money reliant segments.
We continue to see a divide in performance between locally supported segments of the market and those reliant upon outside money. Indeed, the only condo segment that does not have inventory levels at all time-highs is the $200K - $325K segment. There is a real shortage of affordable housing in Miami, and hopefully in the next cycle some gets built.
_________________________________
Analytics.Miami Reports
Analytics.Miami reports are the only source for long-term analysis on the Miami condo market. The reports show the entire market cycle and where we are in that cycle.
In Miami's volatile market, timing is even more important than location. We have just released reports revealing extreme conditions in today's condo market.
_________________________________
About Analytics.Miami
Analytics.Miami was founded by Ana Bozovic in 2017 to provide long-term trend analysis on the Miami real estate market. Ana works with individual investors and groups seeking acquisitions in the Miami area.