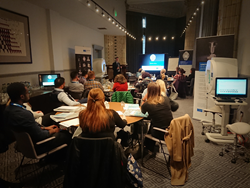 HARLOW, UK (PRWEB UK) 7 February 2018
The Octopus 900 Perimetry Training Day provided attendees with a detailed overview of how to get the most out of the Octopus 900 full-field perimeter. The day included lectures and demonstrations delivered by perimetry specialist Dr. Fiona Rowe, Professor in Orthoptics at the University of Liverpool and Honorary Professor at the University of Technology, Sydney, Australia.
Professor Rowe covered topics including; system & test set-up, static & kinetic examination, test evaluation cluster, polar & trend analysis and more. In addition, delegates participated in hands-on sessions and test simulations facilitated by the HS-UK team. These practical workshops proved extremely popular, allowing attendees the opportunity to gain experience using this state-of-the-art perimetry system. The one day programme offered 6 CPD points.
Grant Duncan, HS-UK Clinical Training Manager, said, "The feedback we've received from the attendees of the first HS-UK Octopus Perimetry Training Day has been extremely positive. Both the lectures and the workshop sessions were very well received, with particular praise for our key speaker, Professor Fiona Rowe. This event will form the blueprint for future perimetry courses, and we are already planning a further Octopus 900 Perimetry Training Day which will be held in Autumn 2018."
For information on future educational events, please contact Victoria Chapman-Brown, HS-UK Training Co-ordinator on (01279) 456256.
### Ends ###
For news media enquiries, please contact:
Erika Poole
Marketing Co-ordinator
Email: epoole(at)haag-streit-uk.com
DDI: 01279 456260