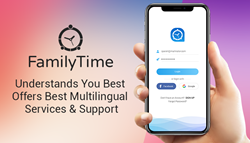 "We are currently offering full language support in 5 languages and are very close to offer more languages quite soon.
(PRWEB) February 13, 2018
The trend-setter app for digital parenting and monitoring, FamilyTime, makes it to the headlines again. In a bid to go global, the FamilyTime app is now available with complete websites and user guides in 5 languages.
"If you want to serve your customers better, you got to speak in their language," said Aziz Ahmed, Founder, and CEO at FamilyTime. He said that they wanted to reach out to their client-base in the most personal manner and understand them better. "We count on our customer service, and we made sure that we can help our users in a way they can best appreciate," he further commented.
FamilyTime app is known for its diverse array of digital parental controls for iOS and Android phones and tabs. The app has fully-functional websites, blogs, user manuals and all other support material in 5 languages including English, Portuguese, Suomi, Spanish and Japanese.
This means that users can get all the essential information regarding the features, pricing, installation and get all their queries answered in a language they understand the best. When we talked to Ross Peters, Head of Product Development, about the globalization project, he said, "We are currently offering full language support in 5 languages and are very close to offering more languages quite soon. So if you speak a language, we would speak that, too". He further said this gives customers confidence that they are being valued and it's easier for them to make the app work better for them.
What else is in the pipeline? "A lot!" said Peters when we asked about the future ventures. "We are working on some ground-breaking parental controls, and very soon, parents will be happy," he said. Peters hinted at a new advanced parental controls feature, Internet Filters for Android, that will empower parents to monitor and control their children's online activities and preferences. Indeed, this feature is going to appeal the concerned parents all around the world especially those who want to protect their kids from the cyberbullying, violent and sexual content online.
FamilyTime has fast emerged as a leading choice in digital parenting industry and a name that parents trust when it comes to monitoring and protecting their children from the negative aspects of the mobile technology. Some of the most powerful parental controls include ScreenTime Locks, iOS Content Filters, App Blocker, TeenSafe Speed Alerts, FamilyPause and many more.
FamilyTime is compatible with all iOS and Android devices and can be used to monitor and control time and content across children's devices. The app can be downloaded from the GooglePlay and iTunes Store. For more details, please visit their website.