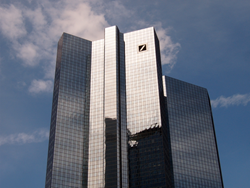 The Blockchain technology enables a faster and cheaper exchange of assets and financial products between individuals without an intermediary, which reduces the asymmetry of information between the individuals - said Christian Nolting, Global Head of Wealth, Deutsche Bank
FRANKFURT, Germany (PRWEB) February 12, 2018
The largest global banking and financial services company in Germany, Deutsche Bank has on-boarded onto HC NET for Blockchain based corporate payments.
Deutsche Bank's core business is investment banking and financial products for corporate clients and private clients.
According to news sources, Deutsche bank's Indian subsidiary had been the first to onboard onto the network. It is working with a major bank in UAE (name not disclosed) on HC NET to channel corporate payments to and from India, Germany and Middle East.
In November last year, the bank tested shared KYC with Treasuries of Cargill, Mitsubishi UFJ Financial Group (MUFG) and HSBC on IBM platform.
Using blockchain, Banks are seeking to introduce real-time cross-border payments. Integrating this technology into their processes improves speed and reduce the cost of moving money for their corporate customers.
According to Christian Nolting, the bank's global head of wealth, "opportunities associated with Blockchain technologies are huge," and could be fully put into practice within the next few years.
Christian estimates that roughly 10% of the global gross domestic product (GDP) would be tracked or otherwise "regulated" by a blockchain by the year 2027.
In his presentation made earlier he said, "The Blockchain technology enables a faster and cheaper exchange of assets and financial products between individuals without an intermediary, which reduces the asymmetry of information between the individuals."
HashCash had been adding a few key banks globally this year to HC NET. The network is designed with consideration for regulated entities such as Banks and exchanges. It uses HCX as its native asset. Participants can use fiat currencies for settlement as well.