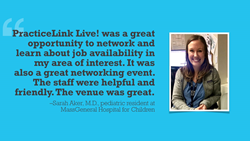 PracticeLink Live! was a great opportunity to network and learn about job availability in my area of interest.
BOSTON (PRWEB) February 08, 2018
PracticeLink, the leading online physician recruitment platform, will bring PracticeLink Live! Physician Career Fair + Seminar to Boston on Wednesday, February 21. Residents and fellows as well as practicing physicians and advanced practitioners are invited to this free networking event.
Active, job-seeking physicians and advanced practitioners will enjoy the opportunity to speak with recruiters from facilities located in the Boston area and beyond. Organizations such as Bay Area Medical Center in Marinette, WI, Cambridge Health Alliance and UMass Memorial Medical Group in Massachusetts, will be among the 29 hiring facilities on hand to discuss their open opportunities.
The fair will take place from 5:00 pm – 8:00 pm at the Marriott Copley Place, 110 Huntington Ave, Boston, MA 02116.
Beginning at 6:00 pm, attendees may opt to attend a job search seminar, When to Do What in Your Job Search. This free seminar covers a 10-step job search timeline for residents and fellows, including what to include in a CV and how to negotiate a contract.
PracticeLink Live! Career Fairs include dinner, drinks and dessert, enabling physicians and recruiters to connect in a casual, atmosphere. Scrubs and families are welcome!
To learn more about participating employers, event details or to RSVP, visit info.practicelink.com/careerfair/2018-boston. Email sarah.griffin@practicelink.com or call 800-776-8383.
About PracticeLink:
PracticeLink.com is the most widely used online physician job bank. More than 20,000 physicians and advanced practitioners register with PracticeLink.com each year in their search for a new job, and thousands more search the Job Bank confidentially when looking for a new practice. More than 1,000 recruiters representing more than 5,000 health care facilities nationwide use PracticeLink to recruit physicians and other health care providers.
PracticeLink is headquartered in Hinton, W.Va., and also maintains offices in St. Louis, MO and Louisville, KY.