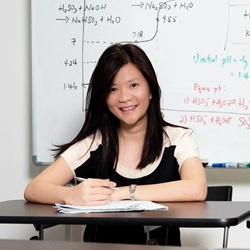 On the day of release of the A-level results, the student texted me to say that she got an A for Chemistry. I could feel her happiness and jubilation in the text message.
SINGAPORE (PRWEB) February 09, 2018
With more than 14 years of experience teaching A Level Chemistry to students in Singapore, Ms Sim is familiar with helping students achieve stellar grades in A Level Chemistry. She graduated from the National University of Singapore with a Bachelor of Applied Science (Honours) degree, specializing in Applied Chemistry. She also has a Postgraduate Diploma in Education from the National Institution of Education. Ms Sim's commitment to students enrolled in her A Level Chemistry tuition goes beyond the scheduled tuition class hours. When working with new students, Ms Sim has in-depth conversations with new students about the topics they find difficulties in and diagnoses their previous exam papers to determine weak areas.
To help her students prepare and optimize the use of lesson time, Ms Sim sends out a weekly agenda. She also develops customized lesson plans and answers questions via mobile text messaging. During her lessons, Ms Sim ensures that chemistry concepts are linked to their application by surfacing popular exam questions and help students' understanding by going through the answers step by step.
This approach is augmented by her summary notes as well as a unique and comprehensive question bank categorized by concept and topic. Students under Ms Sim's also work on a series of A-level papers and papers from other junior colleges (JCs) in a simulated exam environment to enhance performance.
Being able to effectively help her students is what gets Ms Sim going even after years of providing JC Chemistry tuition. She said, "I have seen how improvements in grades boost students' confidence when it comes to studies. It drives home the importance of what can be achieved when schools, tutors and students work alongside each other to achieve a common goal." She added that 85% of her students who had originally scored U's achieved A's and B's in their A-level examinations.
Ms Sim recounted how one student had approached her for help as she was doing badly for her mid-year exams. The student approached Ms Sim and spoke in-depth with her to find out more about her teaching approach. This was due to a bad learning experience she encountered with her previous tutor that made her cautious about choosing the next tutor. Ms Sim took the student under her wings and saw the gradual improvement in her grades over the months leading to the A-level examinations. Ms Sim recalled, "On the day of release of the A-level results, the student texted me to say that she got an A for Chemistry. I could feel her happiness and jubilation in the text message."
Ms Sim added that while getting an A is the ultimate goal of students and tutors, her fulfillment and motivation comes from helping students maximize their performance in Chemistry and knowing that her students put in their best efforts, regardless of the final grade.
For more information and details, you can visit the website of the JC & IB Tuition Specialists. You can read the comments and testimonials of past students. Classes are limited to a group size of 8 so that each student will have the necessary attention. Classes are conducted at locations in the East (Marine Parade) and West (Beauty World Centre) of Singapore.