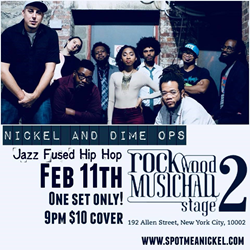 "…Nickel and Dime Operation can change the face of music. Judging from the crowd dancing in the aisles on Thursday night, (Nickel) might be onto something." – New York Daily News
NEW YORK (PRWEB) February 08, 2018
Nickel and Dime Ops, a jazz and hip hop fusion band will be releasing their highly anticipated 13 track musical and lyrical masterpiece entitled Resuscitation Music in April 2018. The album features several guest vocalists including 2 time 2018 Grammy nominated, Jean Baylor. You can pre-order here:
The conscious nine-piece band began in 2010 to push the boundaries of creativity both musically and lyrically. For 7 years and running, Nickel and Dime Ops has held their weekly Thursday night residency at the world renowned Smoke Jazz Club. Over the past seven years, Nickel and Dime Ops has performed over 400 shows in New York and music festivals throughout the country. Members of the group have performed with icons such as President Barack Obama, Stevie Wonder, Alicia Keys, The Roots, Sting, Amy Winehouse, Aretha Franklin, and many more.
Here's what some have to say about Nickel and Dime Ops:
"…Nickel and Dime Operation can change the face of music. Judging from the crowd dancing in the aisles on Thursday night, (Nickel) might be onto something." – New York Daily News
"The dynamic group of insanely talented musicians brings together jazz and hip-hop, combining the two for an unforgettable performance. Yes, an unlikely fusion you might think, but if you love jazz and hip-hop, you are sure to love these guys." – FlowersInAGun.com
This Sunday, Nickel and Dime Ops will debut some of their new sounds at Rockwood Music Hall Stage 2, February 11, 2018 at 8:30pm. The show will be featured in their upcoming music video for their first single from their upcoming new album. Get your tickets here
About Nickel and Dime Ops
When a conscious rapper and some of New York City's most exciting young jazz musicians decided to unite their talents in 2010, the goal was to push the boundaries of creativity, both musically and lyrically. After seven years of weekly residency at SMOKE Jazz Club, and more than 400 performances, Nickel and Dime OPS continues to inspire spectators with their unique musical fusion and incomparable energy. Music lovers and hip hop purists have enjoyed watching the nine piece band bring down the house at such fabled venues such as Blue Note NYC, The Cutting Room, Joe's Pub, and The Bitter End, as well as other cities in the U.S. and Europe. The starting cast of Nickel and Dime Ops features Nickel Cinco (MC), Karlea Lynne' (vocals), Jason Marshall (tenor sax and musical director), Wayne Tucker (trumpet), Corey Wallace (trombone), Willerm Delisfort (piano/keys), Andy Bianco (guitar), Dezron Douglas (bass), Norman Edwards Jr. (drums).
Website: https://www.spotmeanickel.com/
About DPBell & Associates
DPBell & Associates, led by Desiree Peterkin Bell, is a boutique public affairs firm serving clients nationally and internationally in areas such as branding, marketing, and consulting services.