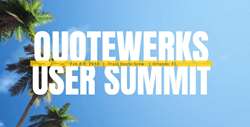 What really makes the QuoteWerks Summit different from other events is the absence of sponsors and vendors...
ORLANDO, Fla. (PRWEB) February 08, 2018
Aspire Technologies, Inc., a leading provider of sales quoting and proposal software solutions for the global small and mid-markets, today announced the first ever User Summit, set to debut this week.
The QuoteWerks User Summit has been many years in the making as QuoteWerks has grown and continued to expand into a variety of different industries over the last 25 years. The event quickly sold out and will be at max capacity for both days.
However, what really makes the QuoteWerks Summit different from other events is the absence of sponsors and vendors. It is strictly community-based, education-focused, and specifically designed for QuoteWerks users. This two-day event will focus on leveraging new and existing features and being able to implement different strategies for using QuoteWerks more efficiently.
"Our User Summit has been a long time coming. We really wanted to ensure that the users who attended our inaugural summit were able to receive training and interact with other QuoteWerks users. We wanted to focus on them for the entirety of the event and ensure they would receive the most content and training possible over these two days," says, John C. Lewe IV, President, Founder, and Lead Developer of QuoteWerks.
The User Summit contains three different tracks for beginners, advanced users, and more technology focused users. It'll provide an opportunity for them to come together as a community, share ideas and experiences, and learn something new. Attendees will have a rare look at what the QuoteWerks Development Team has planned to release in 2018.
It's also a great opportunity for users to meet with QuoteWerks team members who they have interacted with for years, but never met in person. All QuoteWerks employees will be rotating in and out of the event over the two days.
The social media hashtag that will be used for the QuoteWerks User Summit is #QWSummit.
The QuoteWerks User Summit will be held on February 8th and 9th, 2018 in Orlando, FL at the Crowne Plaza Orlando - Universal.
About Aspire Technologies and QuoteWerks®
Aspire Technologies, Inc., the developers of QuoteWerks, is one of the early pioneers of the Quoting Software space. QuoteWerks has received numerous awards and is the market leading sales quoting and proposal solution serving over 83,000 users in over 101 countries. QuoteWerks® integrates with leading CRM, PSA, and accounting packages, along with IT distributors D&H®, Ingram Micro®, SYNNEX®, and Tech Data®, enabling businesses in all industries to integrate QuoteWerks® seamlessly into their existing environments. Aspire Technologies is headquartered in Orlando, Florida and is a Microsoft Certified Partner and CompTIA member. For more information, please visit http://www.quotewerks.com.
QuoteWerks is a registered trademark of Aspire Technologies, Inc. Other trademarks referenced are the property of their respective owners.