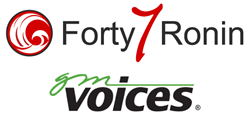 This is a great example of creating marketplace synergy that integrates branded voice with IVR improvements.
COLORADO SPRINGS, Colo. (PRWEB) February 08, 2018
Forty 7 Ronin, a rapidly expanding industry leader in Interactive Voice Response (IVR) design and deployment, today announced its strategic alliance with GM Voices, the global leader in professionally-recorded voice for automated voice technologies including IVR, auto attendant, call routing, Text-to-Speech creation, in-car GPS, and telematics applications.
The two companies have combined their product and service portfolios to offer an IVR Optimization Service package that focuses on four key services to improve IVR and Contact Center Performance and substantially improve customer experience (CX). Specifically, Forty 7 Ronin and GM Voices will perform these services for clients:
1. Utilize the Voice Channel to Achieve Deeper Customer Engagement – services in this area include voice recording in more than 100 languages, persona development, multilingual services and audience engagement. The objective is to achieve a brand-consistent voice combined with a one-voice caller experience and high-quality production.
2. Establish Meaningful Call Center Metrics – creating, monitoring, and improving the key metrics that are directly impacted by the IVR system, including average handling time (AHT), call abandon rate, call containment rate, "zero out" rate, and agent-productivity measurements. This delivers deliver positive, brand-reinforcing customer service with every call.
3. VUI and IVR Design and Development - mapping call flows, creating function-point analysis, business process flows, competitive analysis, IVR system design, implementation, and testing. This identifies and helps design and implement the automated call solution that fits individual businesses' needs.
4. IVR Performance Tuning – evaluating an existing IVR system with tuning services, including transcribing and monitoring calls to reduce out-of-grammar utterances; fixing confusing menus to reduce caller frustration; and instituting virtual queuing to book appointments or let customers wait remotely. This will optimize an existing IVR system without the capital expense of replacement or disrupting daily operations.
According to Mark Stallings, managing director of Forty 7 Ronin, "We are extremely pleased to create a joint offering with GM Voices. Their global leadership in professionally recorded voice, language localization, persona development and voice branding solutions definitely complements our company's IVR technology services."
Marcus Graham, founder & CEO of GM Voices, added, "Forty 7 Ronin is an excellent partner for our company. We wanted to team our voice services with one of the best IVR technology services companies to create a complete IVR optimization program. Mark and the rest of his organization meet that standard and this is a great example of creating marketplace synergy that integrates branded voice with IVR improvements."
Click here for more information about the IVR optimization program.
About Forty 7 Ronin
Forty 7 Ronin was founded in Colorado in 2011 by senior members of the IVR and speech recognition industry who developed better methods to boost IVR performance. In addition to IVR tuning, the company offers VUI design, IVR development, reporting and analytics, IVR migration, and hosted IVR solutions. It also provides IVR training courses and certifications delivered in a variety of formats, including classroom, onsite and online – using real world examples and scenarios. Visit http://www.forty7ronin.com; call 719-445-8054; or email marketing(at)forty7ronin(dot)com.
About GM Voices
Since 1985, GM Voices, Inc. has emerged as the global leader in professionally-recorded voice, language localization, persona development and Voice Branding solutions for automated voice technologies. Dozens of voice actors record in their studios each week, providing clients a consistent voice for any application. More than 100 languages and dialects are offered, with over 900 voice actors comprising a global roster. GM Voices coined the term "Voice Branding", the concept of a single-voice user experience consistent with a company's brand image. Visit http://www.GMVoices.com or call 770.752.4500.