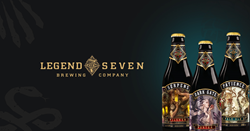 VANCOUVER, BC (PRWEB) February 08, 2018
Legend 7 Brewing, the latest craft brewery to join Calgary's newly emerging "Barley Belt" isn't just serving up great beers, it's serving up great stories too.
The brewery launched with contemporary takes on classic beer styles, with a Czech Pilsner, Robust Porter and American Pale Ale among the first brews to be shipped.
However what sets Legend 7 Brewing apart from the craft crowd, is that each of their beers comes with its own backstory based around iconic mythologies from human history.
"Each of the offerings is tied to the mystery and myth of the number seven," says Bruce Dean, the man behind the brewing brand. "From the Seven Deadly Sins to the Seven Wonders of the Ancient World, for centuries humans have been fascinated by the number's significance and we wanted to bring some of that mythology to our beers."
The three beers available upon launch include:
Serpens Pilsner - A bright golden beer with Saaz hops and balanced by rich maltiness; this pilsner tells a tale of envy, the sixth of seven deadly sins.
Dark Gate Porter - A complex blend of dark malts with coffee and chocolate notes. This beer dives into the story of Hades' lust for Persephone and the story of the second of the Seven Deadly Sins.
Patience Pale Ale - This beer strikes the perfect balance between floral Northwest hops and complex caramel-malt character. It also tells story of patience, the first of the Seven Saintly Virtues.
The inspiration behind the beers are more than just an excuse to make a great label however, in fact storytelling is at the heart of everything Legend 7 Brewing does.
"The vision behind the brand is to create a deeper engagement with our customers," Dean says. "We wanted to create something completely different, enticing fans to explore these mysteries through our beers and their myths and legends."
To bring these stories to life the brewery commissioned original artwork from illustrator Wylie Beckert, alongside in-depth tales to accompany each beer in order to connect with customers like no one else on the market.
To that end Legend 7 Brewing employed the services of industry-leading agency Drive Digital to create an interactive website to breathe life into these stories online.
"We're proud of all our work, but the interactive site we built for Legend 7 Brewing holds a special place in our hearts because it reminds us of the power of good storytelling," said Miles Sellyn, Managing Partner at Drive Digital. "This amazing story was just there waiting to be discovered, so we developed custom animations and digital video to help bring it to life."
About Drive Digital
Drive Digital is a creative digital agency based in Vancouver, Canada, with offices in Toronto and New York City. Their team of strategists, producers, designers, and developers focus on creating world-class digital experiences that bring brands to life online. With expertise in UX design, web development, interface design, content strategy, and graphic design — Drive exists to fundamentally transform how our clients engage with their users.
About Legend 7 Brewing
Legend 7 Brewing is currently shipping their beers to stores and are set to open a 90-seat tap room later this year. Legend 7 Brewing can be found at 4025 9 St SE, Calgary, Alberta.