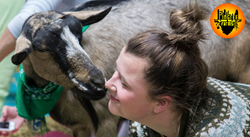 DETROIT (PRWEB) February 09, 2018
Did you miss out on goat yoga last spring? Well, now is your chance to join in because Pingree Farms Goat Yoga is back with even more classes than before. Starting February 10 and running through June 30, Pingree Farms Goat Yoga classes should not be missed, especially if you are an animal lover or are looking for an unusual experience. You haven't lived until you have had a baby pygmy goat climb onto your back!
The 45-minute classes are held in an indoor, barn-like setting near 7 Mile and I75 where participants lay their yoga mats in the straw and do downward dog while a goat nibbles their ear. It is truly unique and the constant stream of registrations coming through the http://www.pingreefarms.org website is testament to Detroit's hunger for the off-beat! After class, take some time to cuddle the goats and be sure to post some selfies to impress your friends. You can even walk away with a Pingree Farms Goat Yoga t-shirt or socks made from Pingree wool which will be for sale on site before and after classes. All proceeds from classes and sales go to support Pingree Farms programs.
Pingree Farms is a registered non-profit with more than 15 acres of Urban Gardens, as well as a host of farm animals that are used in partnership with Michigan State Universities Extension program, consisting of miniature cows, sheep, pigs, goats, rabbits, chickens, turkeys and more. All of the livestock participate in Pingree Farms two MSU Extension sponsored 4-H club programs for both Wayne and Oakland County students. Pingree Farms Foundation was recognized with an MSU Extension Key Partner Award in 2016 and was awarded a Mahindra Urban Agriculture Grant in 2017.
Go to the Pingree Farms Foundation website to learn more about the organization, and to register for upcoming Goat Yoga experiences. http://www.pingreefarms.org.
Na-a-ama-a-aste.
Contact:
Juana Woodson
313-564-1500
juana(at)pingreefarms.org
http://www.pingreefarms.org