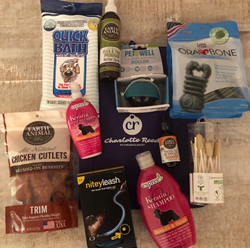 I strongly encourage pet parents everywhere to check these out these health, beauty and safety products and give their own pooch a 'Westminster Makeover.'
NEW YORK (PRWEB) February 12, 2018
Most dogs won't get to travel to The Big Apple this week for the famous Westminster Kennel Club Dog Show but, with the help of some select, new products from Petrendologist Charlotte Reed, pet parents everywhere will be able to make their pooch look and feel like a champion.
Reed, a national pet trend and lifestyle expert, carefully reviewed a myriad of canine health, wellness, beauty and safety items and has selected her favorite nine products to put in her personal pet bag including a keratin shampoo and repair spray, herbal flea and tick treatment, pet massage tools, a natural ear cleaning system, quick bath wipes, dental treats, an immune support tincture, weight loss snacks, and even a fiber optic leash.
"Your everyday canine probably won't compete in agility, obedience or confirmation at Madison Square Garden this week, but that doesn't mean they can't benefit from and enjoy the best products to keep them in excellent health and promote their overall wellness," Reed said. "I strongly encourage pet parents everywhere to check these out these health, beauty and safety products and give their own pooch a 'Westminster Makeover.'"
Here's what's in the pet bag from Petrendologist Charlotte Reed:
1. Earth Animal Immune Support (EarthAnimal.com) - an organic herbal blend that helps jump-start and balance the immune system. Helps provide immune support, strengthen cells and organs to guard against common conditions due to stress or weakness.
2. Earth Animal All Natural Flea & Tick Program Herbal Spray (EarthAnimal.com) - a blend of essential of oils that helps guard against fleas, ticks, black flies, mosquitoes and other biting insects without harsh or harmful chemicals, pesticides or insecticides. Use at the beach, in the yard or while walking, hiking or boating. Safe for the environment, too!
3. Earth Animal Trim Chicken Cutlets Made with Brushed-On Benefits™ (EarthAnimal.com) - made with American-raised, free-range chicken safely sourced in the USA. Chicken cutlet treats made with no corn, soy or gluten and brushed on with L-Carnitine, a compound that is made from the amino acids Lysine and Methionine. L-Carnitine has been shown to help the body with the metabolism of fat and support healthy weight.
4. Espree Animal Products Keratin Oil Shampoo and Coat Repairing Spray (Espree.com) - immediately restores elasticity, deeply moisturizes and smooths the coat while helping to detangle and add a weightless shine. Great for long coats or coats that are thin and damaged but will improve any type of coat. The Repairing Spray strengthens and repairs hair while smoothing the cuticles for a stronger coat with brilliant shine.
5. International Veterinary Science (IVS) QuickBath Wipes (IVSPet.com) – you never know what your pet will get into whether at home or on the road and when you'll need to give Fido a fast bath. International Veterinary Sciences (IVS) QuickBath Wipes are formulated with gentle, effective cleaners that remove bacteria and odors from your pet's skin and coat quickly and easily.
6. Loving Pets Products Ora-Bone™ Dental Treats for Dogs (LovingPetsProducts.com) - fights bad breath in your dog's mouth and gut with freshening ingredients (mint, parsley & chlorophyll). Made in the USA and available in three sizes for small, medium and large dogs, these dental treats with a unique design have up to double the cleaning surface area of similar products.
7. Pet Well All-Over Massage Roller (LovePetWell.com) – this suite of massage pet tools helps improve flexibility and increase range of motion. Reduces pain and swelling, accelerates healing time, eases anxiety and promotes healthy digestion. Best part: the five massage tools help promote a healthy bond between pet parents and their furry family members.
8. Pura Naturals Pet™ Canine Ear Cleaning System (PuraNaturalsPets.com) - includes an organic oil serum and plant-based foam Pura Tip applicators. The applicators are reusable and designed to remove oil and dirt. The serum includes mullein oil which acts as a natural disinfectant and witch hazel to deodorize. The cleansing serum also contains anti-inflammatory properties alongside its antiseptic benefits. There are no synthetic dyes or perfumes added to this formula. Made in the USA.
9. Nitey Leash (NiteyLeash.com) - proprietary LED/Fiber Optic Leash provides illumination to allow motorists, cyclists and others to see you up to 1/4 mile away, keeping you and your pooch safe. Water resistant, too!
For more tips and information from Charlotte Reed, visit: http://www.facebook.com/Petrendologist or https://twitter.com/CharlotteReed.
About Charlotte Reed
Charlotte Reed is the leading pet trend & lifestyle expert. Millions have had the opportunity to watch her on Better TV, CNN, Comedy Central, Fox & Friends, Nate Berkus, The View, Steve Harvey, Today's Show, VH1 and The Willis Report as well as many other televisions and radio shows around the globe, discussing "The What's New" for pets and their people. She is the Pet Solutions columnist for "First for Women" magazine, providing money saving tips to their readers. Charlotte has been a popular blogger for NBC's Petside.com and Pet360.com. As the Happy & Healthy Pets blogger, Reed provided health and wellness pet care tips for Prevention.com readers. Charlotte is also the author of The Miss Fido Manners Complete Book of Dog Etiquette (Adams Media, 2007). Additionally, she served on the New York State Veterinarian Board for nine years, helping to set veterinary policy and educational standards for the State of New York. Reed is a graduate of Lafayette College and Fordham University Law School. For more information, visit CharlotteReed.com.