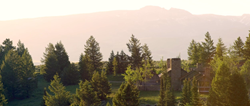 "Here we create buildings that redefine home, designs greater than the sum of their parts."
BOZEMAN, Mont. (PRWEB) February 09, 2018
Celebrating the power of place and craftsmanship in design, JLF Architects, with offices in Bozeman, Montana, Jackson Hole, Wyoming, and Park City, Utah, recently released a short video that showcases their collaborative creative work with construction partner Big-D Signature, set in Wyoming's remarkable Jackson Hole landscape. "Our process is human," explains the video's voice-over, "hand-crafting, hand holding, hand-forging every moment in the careful synergy of partnership."
Filmed near Jackson, Wyoming, the video reflects the timeless quality of JLF Architects' projects with Big-D Signature, working at an artisanal level of craftsmanship with reclaimed timber and stone to create comfortable contemporary houses in close dialogue with the region's history and landscape. The new short film specifically highlights a Jackson Hole residence that earned the team the Home of the Year Award from Mountain Living magazine in 2016. "Here we create buildings that redefine home, designs greater than the sum of their parts," the video continues, concluding with, "a building that has always been and always will be."
Nestled on a hilltop against the dramatic Teton mountain range, the award-winning house appears to grow from the landscape atop the Gros Vent West. Known for creating legacy homes for clients, JLF Architects designed the residence both to fit the current needs of an active contemporary family of five and as a time-honored place for generations to come. The video provides a 365-degree view of the architecture's deep connection to its ruggedly beautiful site, while offering a behind-the-scenes glimpse of the multidimensional thought process and detailed hand-crafted efforts that go into creating a JLF Architects-designed home.
"This video is an attempt to capture the holistic process of creating a home, which is all-encompassing and involves the client, the land, the design team and the build team," says JLF Architects principal Logan Leachman, who also appears in the video.
In 2001 JLF Architects and Big-D Signature united in a partnership to create buildings that redefine home. Their award-winning perspective is powered by inspired design and an exacting eye for placement, an ethos that stems from a unity of nature, beauty, balance and imagination. Unlike a traditional top-down model of architect as dictator, the JLF and Big-D design-build relationship ensures a seamless manifestation of the client's vision through transparent reporting, honest promises and quality-control. Based on a shared team vision, the collaborative, communicative process ultimately enhances creativity.
About JLF Architects:
Building timeless structures rooted in integrity and simple elegance, Jackson Hole, Park City and Bozeman-based JLF Architects applies distinctive solutions and materials to create place-based houses marked by the influences of landscapes from the Rocky Mountains to the Eastern Seaboard. JLF Architects has established a genuine alliance with Big-D Signature, built over 17 years of working together, to create a streamlined design-build process that benefits clients. Winners of Mountain Living magazine's 2016 Home of the Year, the JLF Architects and Big-D Signature design-build team unites passionate architects with dedicated builders to enable the collective imagination of visionary artisans working with visionary clients. For more information visit http://www.JLFArchitects.com.
Media Contact: Seabring Davis, Word PR + Marketing, seabring(at)wordprmarketing(dot)com, 307.734.5335