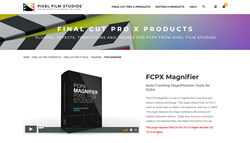 ALISO VIEJO, Calif. (PRWEB) February 07, 2018
The FCPX Magnifier is a set of magnification tools built with motion tracking technology. This plugin allows Final Cut Pro X users to easily track an object, and expand its scale up to 1000%. The plugin features two shape variations with simple and realistic stylization options. Easily draw focus to miniature subjects and detailed areas with this intuitive tool set.
The FCPX Magnifier utilizes Pixel Film Studios' motion tracking technology to instantly follow an area, so that editors can save time editing and bypass the process of key-framing. Using Magnifier is easy. Simply, apply a preset to footage, track the scene, and adjust the magnification amount. Magnifier will do the rest.
FCPX Magnifier's scope presets allows editors to create realistically stylized scopes with lighting effects. Utilize the on-screen control to position the light and adjusts the degree of bend. With refraction controls, users can make changes to the scope's edge softness and refraction amount. As the scope tracks to your subject, the glass will react with the artificial light perfectly.
Both scope presets and regular mask presets are available in this plugin package. Scope presets are better used in stylized scenes that require more realistic compositing. Regular mask presets have simpler stylization, featuring outline and drop shadow controls. These presets can be used as a quick and easy effect to draw the attention of viewers.
Established in 2006, Aliso Viejo, California-based Pixel Film Studios is an innovative developer of visual effects tools for the post-production and broadcast community. Their products are integrated with popular non-linear editing and compositing products from Apple FCPX. Apple, the Apple logo, Mac OS X, and Macintosh are registered trademarks of Apple Inc. in the U.S. and/or other countries. All other trademarks and trade names are the property of their respective owners.