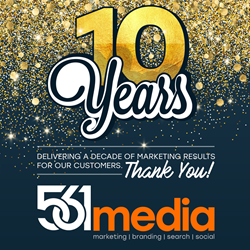 BOCA RATON, Fla. (PRWEB) February 08, 2018
On February 8th, 2008 the South Florida Digital Marketing landscape changed; 561 Media began. With an unbridled passion for creating incredible custom websites, the company represents businesses in various markets to shape their digital identity. A team of experts gathered to build what is now known as South Florida's Premier Digital Agency; 561 Media.
The company celebrates a monumental milestone today; a decade of operating as a powerful and resourceful Digital Marketing Agency in Boca Raton, FL. Founded by Cary Bartlett in 2008, the Brand has evolved from a Custom Website Design Company to a Full-Service Digital Marketing Agency, and Google Certified Partner for businesses and industries of all capacities. Their dedication and service apply to everything from; one-of-a-kind Custom Websites, Custom Logo and Branding Creation, Search Engine Optimization, Google AdWords Management, Email Marketing, Website Hosting and Management, and more. Various companies across the nation have relied on 561 Media to be their source of success, creativity, and growth.
As the leading identity in South Florida, the 561 Media brand is revamping the brand identity to celebrate the milestone, and progress ahead for the next 10 years. This includes; a fresh look in the logo, new business cards, email signatures, company literature and presentation material, and a completely new renovated Headquarters in the heart of Boca Raton.
"This brand overhaul for us is exciting to create, yet a necessity for our business and the direction we are growing in," said Cary Bartlett, CEO of 561 Media.
"One of the challenges companies face is the ability and openness to evolving their brand. Change isn't always a bad thing! Especially when you're catering to an entirely new generation of entrepreneurs and future career-minded individuals. We're doing this to keep our brand fresh, and stronger than it ever has been. I encourage other companies who have watched us grow to do the same."
The company's website has been the leading platform for creating new business opportunities. A modernized redesign of the website is a factor to present enticing conceptualized projects and highlight unparalleled services like Digital Marketing and Custom Website Design. The new site is expected for public launch in Q2 of 2018.
"This is a pretty incredible thing to be a part of. We're in a very competitive industry, so being on top of our game and ahead of the curve has been a big part of our success for the last 10 years. We have an incredible team and I'm humbled to be celebrating this with the rest of the company," said John Florey, Director of Operations for the company. "Watching so many iconic brands walk through our doors and join us on some really exciting journeys has been very rewarding for us."
561 Media is planning astonishing feats for 2018 and beyond. The company is expanding the marketing presence at national trade shows such as SEMA, SHOT SHOW, and ICAST. 561 Media's diverse portfolio in these industries is exceptional. Their projection to showcase performance-based results for new business partnerships is a top priority.
Visit https://www.561media.com for more information or call 561-417-8505