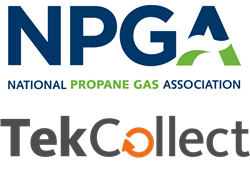 We are pleased with the NPGA's decision to renew the endorsement of TekCollect as an exclusive Affinity Partner.
COLUMBUS, Ohio (PRWEB) February 10, 2018
TekCollect Inc, one of the nation's premier accounts receivable management solution providers, has once again been selected as the exclusive, endorsed Affinity partner of the National Propane Gas Association. The renewal of the NPGA's endorsement came after the organization's strong vetting process, including numerous committee reviews, where TekCollect was awarded the endorsement over competing agencies. The continuation of this relationship means TekCollect will provide exclusive benefits to members of the NPGA.
Ron Douglas, President of TekCollect stated, "We are pleased with the NPGA's decision to renew the endorsement of TekCollect as an exclusive Affinity Partner. This endorsement combined with the best in class service, as well as our integrated solutions, will produce the best results possible for NPGA members. We take our association partnerships seriously and appreciate the significance of the NPGA's decision to renew our endorsement."
TekCollect's success comes from the strong relationships developed with industry partners, such as the NPGA. Providing an accounts receivable management solution, specifically for the propane industry, TekCollect has helped NPGA members resolve 86% of accounts submitted at a substantial cost savings when compared to other AR solutions.
Adding to the success TekCollect achieves for NPGA members is the ease of use developed through multiple software partnerships. NPGA members utilizing Suburban Software Systems, ADD Systems, Cargas, Blue Cow, and RCC will find identifying and submitting of accounts simple and painless. This simplicity helps TekCollect become an extension of a retailer's staff and ultimately produces superior results.
For more information about TekCollect's NPGA member benefits visit http://npga.tekcollect.com or https://www.npga.org/membership/member-benefits/.
TekCollect Inc provides comprehensive accounts receivable management, collections, and customer retention solutions to over 30,000 businesses nationwide. The company partners with business owners to optimize their internal accounting practices, limit and control delinquencies, and improve positive cash flow for the long-term. TekCollect's technologically advanced approach generates the highest recovery ratios in the marketplace, and their non-alienating strategies preserve business's valued customer relationships.